Digital Basel faces controversy before its debut
What is Digital Basel?
Digital Basel serves as a curated collection showcasing top-notch galleries, artists, and the remarkable artworks they represent, with the goal of simplifying the discovery and review process while fostering the concept of digital art ownership. At its core, the project seeks to bring expert curation and world-class art to fresh audiences, blending sophistication with a hint of informality. Read the full statement of what Digital Basel.
Chain of Events
We find ourselves caught in the crosshairs of what appears to be either a coordinated assault or a series of misunderstandings that have snowballed into misguided conclusions and actions by different parties. Here's a rundown of the events that have transpired over the past two weeks.
March 5, 2023
Digital Basel has introduced a landing page that hints at the forthcoming project and invites galleries to become part of it.
March 14, 2023
Digital Basel platform was introduced on our domain name, without any public announcements, as it remained in testing mode. The initial roster of galleries featured in the catalog came from participants of Art Basel 2022 and Liste 2022 art fairs, along with their respective artists and artwork selections. All galleries, artworks, and prices displayed on the website served purely as guidance.
The website, being a work in progress, contained errors and typos. Owing to the use of Basel's name, a clearly visible disclaimer was placed on all pages, emphasizing that we are NOT partnered or affiliated with Art Basel in any way. The platform was a work in progress...
March 28, 2023, 15:39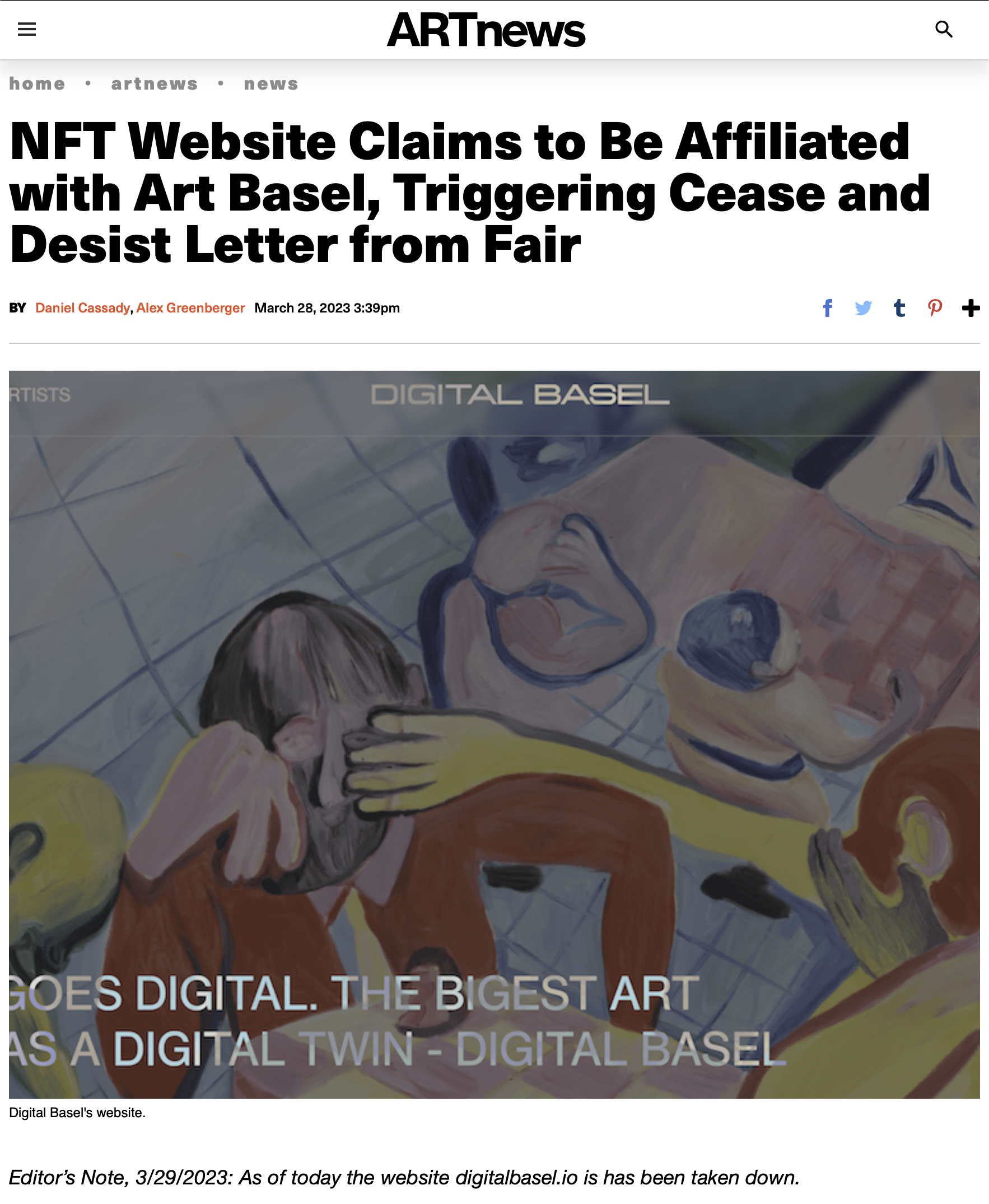 Screenshot of Artnews.com article about Digital Basel.
Digital Basel desists a letter from Fair.
Digital Basel is a fraud.
Digital Basel claims to be affiliated with Art Basel.
These claims are baseless. At the time of the article's publication, Digital Basel had not received any correspondence from Art Basel or its representatives. Moreover, Digital Basel has never claimed any association with Art Basel. Labeling Digital Basel as fraudulent is also unfounded, as the project was still in its testing and editing phases, with the official launch yet to take place when the article hit the press.

It later came to light that ArtNews editors had attempted to reach us through the website form. However, as the site was still in its testing phase, the information wasn't displayed internally and was only retrieved from the database at a later stage.

March 29, 2023, 00:00
A mere eight hours after ArtNews published their article, we received an email from Joseph R. Englander of Fowler White Burnett Attorneys at Law, who represent MCH Group & Art Basel. Interestingly, the email from the lawyers arrived right at midnight, sharp. One might speculate that the timing was intentional, perhaps to leave us with no time to respond.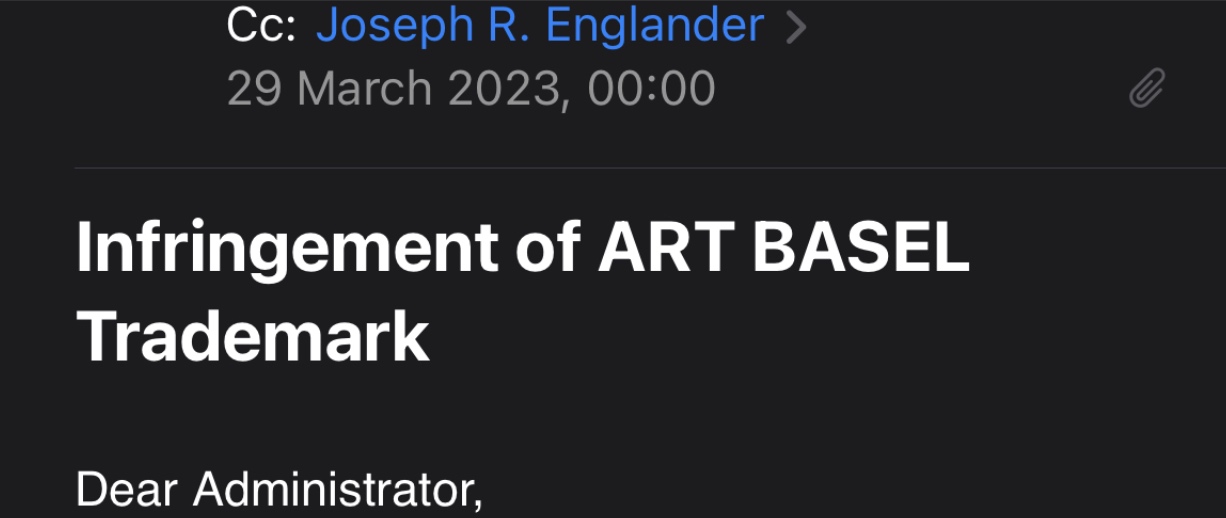 Screenshot of an incoming letter from Fowler White Burnett Attorneys at Law, that represent Art Basel.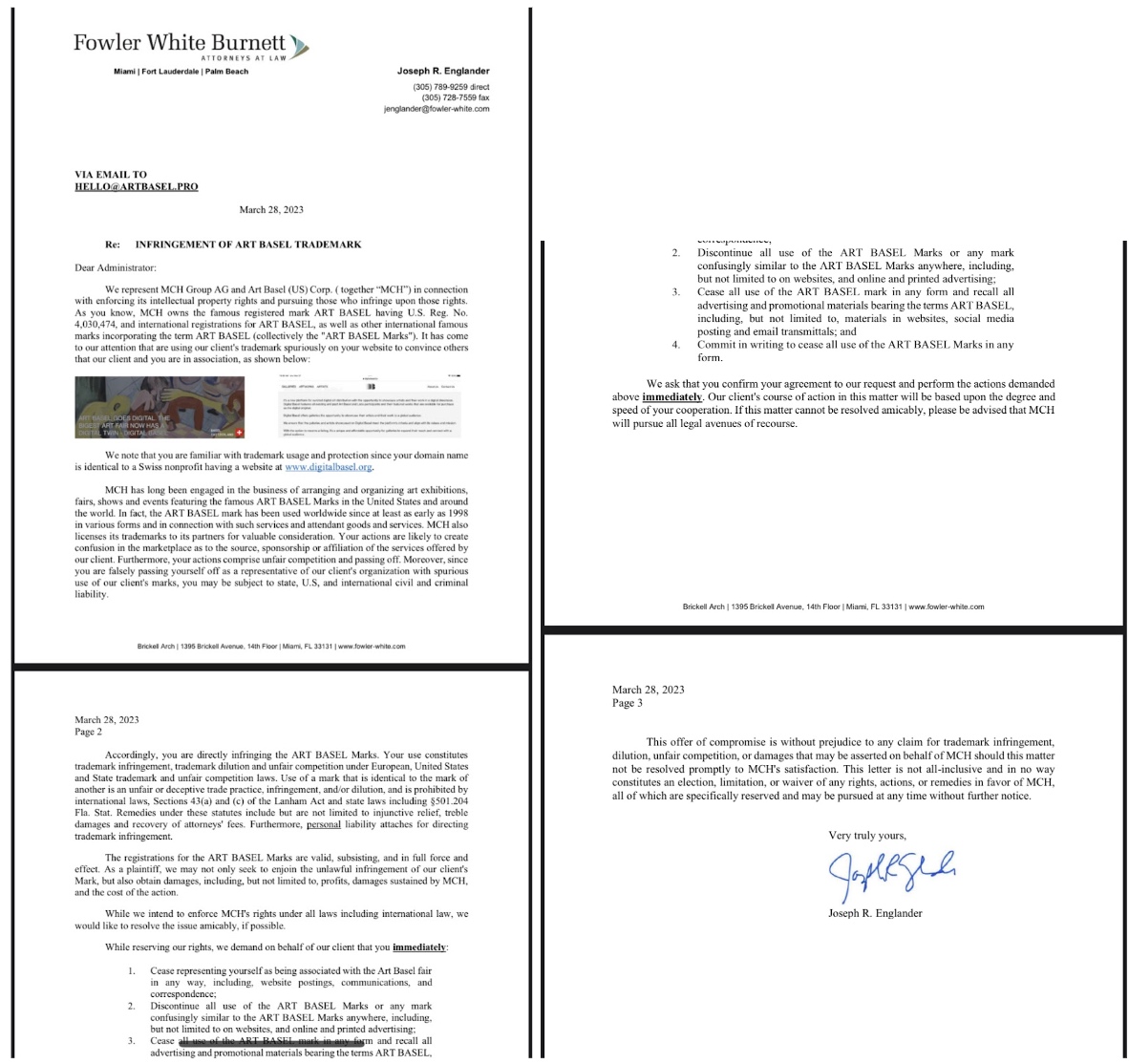 Screenshot of a PDF letter signed by Joseph R. Englander
March 29, 2023, 12:00
On the morning of March 29, we stumbled upon the mentioned email and ArtNews article. The buzz quickly spread across Facebook and Twitter, causing a wave of backlash. In response to the mounting criticism, we had no choice but to pull the plug on the site. Turns out, a couple of news outlets caught wind of the release too: ArtNet, Observer.
April 2, 2023
It took a mere three days for us to address and consider the request submitted by Joseph R. Englander of Fowler White Burnett Attorneys at Law. We've ceased using the 'Art Basel' wording in any form. Meanwhile, access to the Digital Basel website has been fully restored, and it's back to business as usual.
April 3, 2023
Digital Basel is back online.
The concerns raised by Art Basel and its representatives have been addressed – all references to Art Basel have been removed. The involved parties, including several galleries, have been duly contacted and informed.
ArtNews, the initial source of the original news release, has been provided with our comments on the matter. We are currently awaiting their response and subsequent reactions.
Observer.com contacted us for our perspective on the situation. We have furnished a comprehensive response addressing the issue, and now await their subsequent reaction or reply.
April 5, 2023
In a recent article published by Observer.com, we at Digital Basel provided an update on the situation regarding our platform. As of the morning of April 5th, 2023, we have received eight requests from galleries, with seven of them asking to have their profiles removed from our site. We acted promptly to fulfill these requests.
We hope that these decisions were made in the heat of the moment, fueled by miscommunication surrounding our project. We remain optimistic that the affected galleries will reconsider their decision and return to our platform in the future, recognizing the potential benefits it offers.
ArtNews contacted us for further commentary regarding the incident. In response, we have submitted a comprehensive statement. We now eagerly anticipate any follow-up inquiries and their subsequent reaction.
April 14, 2023
ArtNews remains tight-lipped, offering no statement thus far.
Our team has reached out to all galleries in our database for approval of their listings on Digital Basel. The response has been good, with many galleries expressing appreciation and taking the opportunity to edit their profiles.
April 29, 2023
We have recently experienced a surge in approval requests from galleries eager to stay on our platform. This uptick in interest has been accompanied by positive feedback from site visitors and artists alike. In response, we have implemented a series of changes to our website to ensure complete compliance with intellectual property laws. As of now, Digital Basel is fully compliant with all received demands and requests, satisfying all involved parties.
Regrettably, however, ArtNews has yet to issue an update on their initial publication that sparked controversy surrounding our platform. Despite our multiple responses and reminders, Daniel Cassady and Alex Greenberger have neither provided any updates nor incorporated our perspective into their article. While the reasons for their silence remain unclear, we can't help but speculate that their actions may have been coordinated with ArtBasel, given that ArtNews was the first to publish on the matter before we received any official claims. Such a possibility raises questions about the journalistic standards at play in this situation.
Our Appeal to Galleries and Artists
We value and respect every gallery's business and rights. For galleries that are on the platform because they have participated in Art Basel 2022 – your profiles were created semi-automatically using publicly available information for the convenience of collectors. If you wish to edit, add, or delete any or all of the information – please feel free to contact us and request profile access – all requests shall be processed swiftly. For galleries that are not on Digital Basel yet – you are free to register, create your profile and add your gallery to the platform.