How to Turn Physical Art into a Digital Asset with NFTs
How to Turn Physical Art into a Digital Asset with NFTs
The interest in the topic is still high, and art institutions are also eager to join the trend by turning artworks into NFT. However, with the revolutionary nature of this technology, converting artworks to digital assets may be a complex task for galleries and museums alike.
In the article, we'll sort out the basics of the process, answer potential questions, and advise galleries on how to sell physical art as NFT.
NFT & Physical Art: The Match Made in Heaven
During the Сovid-19 epidemic, museums & galleries worldwide have been forced to limit or completely close their exhibitions to visitors. As a result, the financial condition of art institutions deteriorated, their audiences began to look for other ways to spend their free time, and art started disappearing in private collections. In order to continue working and preserve their exhibits, art-related institutions had to discover new means to interact with the audience. That way was digitalization.
In essence, digitalization helps organizations form new revenue and value streams with the help of digital technologies. Among them are NFTs. Converting physical art to NFT helped the art industry not only increase their chances of enduring in an unstable economy but also receive a number of the following advantages:
Minting physical art NFTs allows galleries to ensure their originals stay accessible to the public and eternalized in the form of digital copy for generations ahead. That way, art NFTs can be sold independently of the original, consequently not only preserving museum exhibits but also increasing their value.
Expanded Artistic Expression
Galleries can support artists in exploring features of the new digital asset. With NFTs, art institutions can provide visioners with the opportunity to push boundaries and access the benefits of new digital assets. For example, in 2021, The British Museum decided on selling physical art as NFT. By partnering with a French startup named LaCollection, the museum minted Hokusai's works and offered them at varying rarity tiers to receive royalties from each subsequent sale.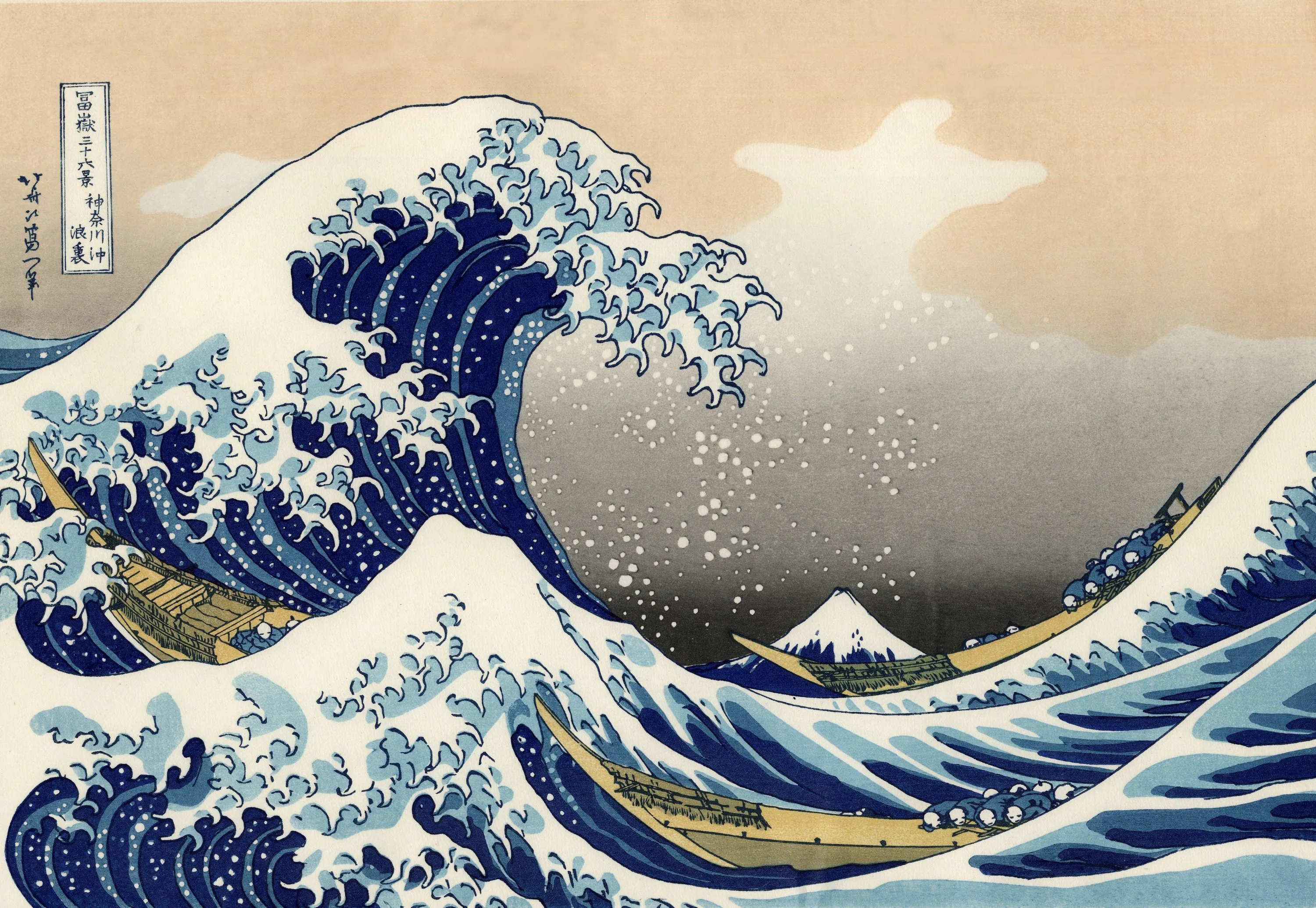 BRITISH MUSEUM, Katsushika Hokusai, The Great Wave off Kanagawa (1831). Minted as an ultra-rare type, only two NFTs were offered for the bidding.
By linking NFT with physical art, galleries can engage a global audience and reach collectors without space limitations. In addition, NFTs democratize the art market and make it more financially inclusive to a broader range of art enthusiasts who can't participate in traditional bidding.
Original art NFT streamlines direct engagement with collectors, which enables any creator to receive fair compensation for their works. In addition, galleries can act as facilitators, helping creators navigate the NFT space and build relationships with a growing community of digital art collectors.
Royalties and Residual Income
Each time the NFT of the original artwork is sold on secondary markets, artists and galleries receive revenue streams in the form of royalties. That way, they can continue to benefit financially from the increasing value of their artwork, even after the initial sale.
From ownership rights to norms of display and scarcity, galleries and artists have full control over artwork monetization. Working together, they can ensure the merging of physical art to NFT proceeds according to their expectation. In addition, tokenization will allow tracking ownership details if buyers have KYC, increasing the transparency of previous and future transactions for all market participants.
With such ample benefits, it is not surprising that your gallery might be interested in tokenizing its collections too. However, before going full in, you should know what lies ahead for your organization and how best to transform your art object into a non-fungible token.
Artwork Tokenization in a Nutshell
When it comes to tokenization, there are two options available. The first is to handle every step of the process independently, while the second involves partnering with a specialized platform that can create NFTs from an organization's assets.
The former requires a significant amount of time and resources. In this scenario, galleries would need to manage tokenization, legal compliance, crypto wallet creation, choosing a suitable market, uploading artworks on the blockchain, and promoting NFTs. It may be a challenging task without the help of professionals in the area.
The latter is a more efficient way for museums & galleries to convert physical art into NFT. Digital Basel is an example of a service that helps with this process by facilitating communication, giving advice, and ensuring proper due diligence. Such art institutions as 47 Canal and Galerie Krinzer already benefit from our extensive knowledge and experience in tokenization. All you must do to access the same expert assistance is to go through a few steps.
Turning Physical Art into NFT with Digital Basel: Step-by-step Plan
Step 1. Register on the Digital Basel platform and submit a listing request for your gallery or museum through the form.
Step 2. Digital Basel creates the gallery's profile, digitizes art collections, and promotes them through social networks, SEO recommendations, and contextual advertising to potential collectors.
Step 3. Receive purchase offers from collectors. Before approving the deals and sending collectors the details, decide on pricing, transfer method, and additional rights.
Step 4. If your gallery or museum makes a request, Digital Basel will help manage transactions, provide guidance, ensure appropriate due diligence, and communicate with any buyer. Thus, your representatives get involved only to examine and approve transactions.
Step 5. Benefit from dealing with the new generation of collectors, increasing artworks' monetary & artistic value, and accessing additional revenue streams to support your art institution with NFTs of physical art.
Digital Basel allows museums & galleries to facilitate challenging and time-consuming processes. From legal compliance to effective promotion, art institutions will receive complex assistance from our specialists in tokenization. If you need more information about the process, we highly suggest visiting the dedicated page on our website.
Join more than 200+ galleries that already benefit from Digital Basel and discover the hidden business potential of your artworks.