Revolutionizing Art Documentation with Paperless Efficiency: A Case Study of Digital Dossier From Arcual
In the Web 3.0 age, cutting-edge technological solutions are gradually becoming more popular and finding their way into various fields, including the art industry. One such solution is non-fungible tokens (NFTs), unique assets situated on blockchain. NFTs enable galleries and their affiliated artists to provide proof of ownership for collectors within the digital landscape.
Since their emergence, NFTs have undergone backlash, re-imagining, and finally, adoption by the art community. The establishment of specialized organizations like Digital Basel has greatly facilitated access for the art institutions to NFTs and expanded monetization opportunities. However, some organizations and collectors feel unsure of the rapid technological progress and tend to prefer the traditional approach to art acquisitions, collecting, and sales. Nevertheless, the dire need to protect intellectual property rights in the digital realm pushes many to seek a compromise.
Reflecting on this rift, some individuals have begun developing solutions that integrate new Web 3.0 technologies in art collecting while staying within the confines of traditional art collecting. One such solution is the Digital Dossier from Arcual. In this article, we will examine what thosepaperless art dossiers are, how they differ from art NFTs, and how both technologies are applied.
The Role of Digital Dossier from Arcual
Making its debut during the Art Basel event, Digital Dossier was created by Arcual to enhance the collecting experience. Accessible through Arcual's Salesroom, it provides art institutions with a means to create added value to traditional collecting while collectors receive detailed profiles on the artworks they purchase.
However, the Digital Dossier concept extends beyond being eye-catching business cards for artworks. By leveraging blockchain capabilities, the platform also allows art institutions to solidify their presence in the digital realm, provide accessible data sources for collectors about their purchases, and enhance the security of the artworks in the digital age. As a result, both galleries and buyers get access to a tool that streamlines management and helps preserve art for a long time or even eternity.
Features of Arcual-powered Digital Dossiers
Secure and Detailed Documentation Storage
Similar to NFTs, digital dossiers can store additional data that can only be accessed by the owner of the physical art. As stated by Arcual, a single digital dossier can accommodate up to 10 additional photos and 10 documents, significantly improving the management of purchased artworks' data.
This digital art documentation can include exclusive collages, work-in-progress editions of the purchased artworks, guides on preserving artworks, various reports, or legal documents. As a result, art institutions can leverage digital dossiers to motivate collectors to favor artworks with additional digital content rather than just physical assets.
Digital Certificate of Authenticity
Like NFTs integrated with proof of ownership, digital dossiers are integrated with digital Certificates of Authenticity, in short, CoA. These Certificates of Authenticity, stored on a blockchain, provide art institutions, their affiliated artists, and collectors with means to bolster security in the digital realm and provide in-depth digital art provenance.
Utilizing digital dossiers in combination with artworks allows galleries and their affiliated artists to expand the customization of their offers. Moreover, the inclusion of additional content provides a complete background for physical artworks, assisting owners in maintaining their assets in proper condition, expanding their knowledge, and acquainting them with the artistic view behind the purchased works.
Blockchain-powered Enhanced Security
Blockchain's transparent and highly encrypted system ensures that its data can be easily accessed at any moment but not easily altered. By storing data about artworks on a blockchain, art institutions preserve valuable content and protect its integrity. Therefore, like any technology based on blockchain, digital dossiers also have robust security measures.
Immutable Provenance and Future-Proofing Art
As we mentioned, one of the Digital Dossier's key benefits is its Certificates of Authenticity attached to artworks. These certificates enable all parties involved in a deal to verify authenticity, making Digital Dossier a valuable and trustworthy digital provenance for collectors, art institutions, and their affiliated artists.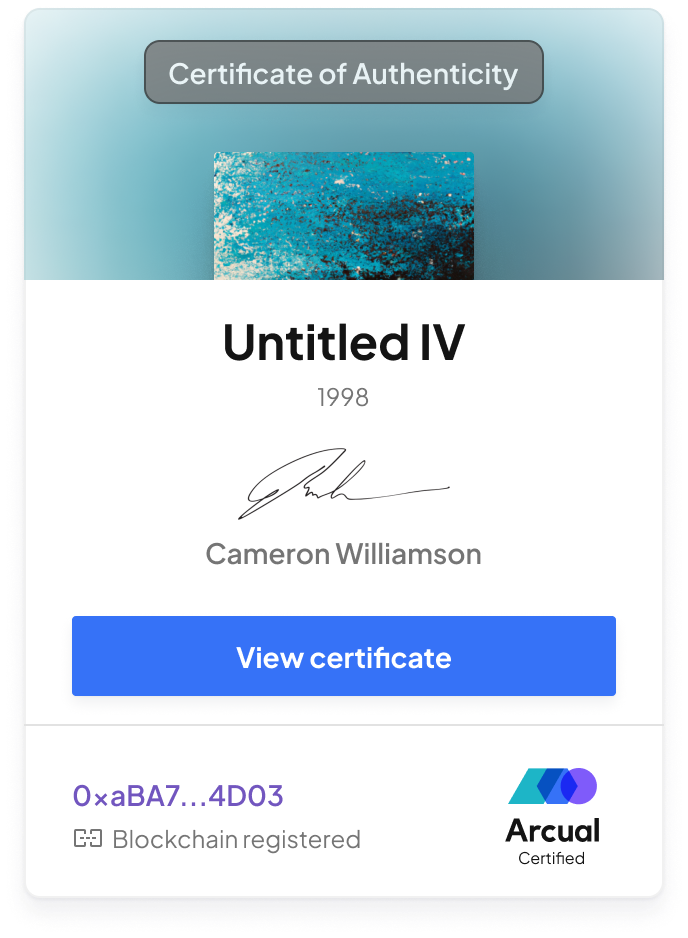 An example of a Certificate of Authentication in a digital dossier from Arcual.
Moreover, while other competitors on the market may offer similar services, Digital Dossier takes provenance and future-proofing artworks to the next level. As both sellers and buyers have to co-sign the certificates, an immutable record is created, ensuring that both parties are held accountable.
As a result, Digital Dossier, created by Arcual, contributes to building the community based on the principles of credibility, trust, and benefits for all participants in the art market.
The Difference Between Digital Dossiers and Art NFTs
Both digital dossiers and art NFTs share some similarities, such as leveraging blockchain capabilities to provide the art community with a secure and transparent platform for data storage or art ownership verification. However, they have distinct features that set them apart, primarily in terms of their identities.
Digital dossiers, created by Arcual, are collections of digital documents, files, and records that provide extended information about artworks. Typically containing detailed profiles, documentation, sketches, or commentaries from artists, they are used in tandem with physical artworks rather than as standalone offers.
Minted with the assistance of specialized companies like Digital Basel, art NFTs are unique digital assets that provide their owners with proof of authenticity for digital artworks, rather than physical items. Like digital dossiers, art NFTs are also connected to specific artworks, but in contrast, they have more diverse functionality. This allows galleries and collectors to trade art NFTs as completely standalone products, utilize them for various activities beyond art authentication, or implement them as proof of ownership.
The primary goal of a digital dossier is to consolidate and organize information in a digital format, making it easily accessible to the owner. Serving as a repository of data and documents that can be referenced or shared as needed, digital dossiers allow art institutions to create an added value that can increase collectors' interest in buying artworks. Thus, digital dossiers become more of a compromise for art institutions that want to tap into the digital realm and digitalization of their artworks but are still concerned about potential losses and challenges.
On the other hand, art NFTs exist solely in the digital realm and are primarily used as standalone offers. Gaining popularity in the world of digital art, they allow galleries to effectively monetize their artworks in the digital landscape with secure art transactions. By buying NFTs, collectors receive full-fledged high-liquid assets that can be traded on online marketplaces without the need to sell physical copies. Thus, art institutions involved in NFT trading not only enter the digital realm but also leverage its full potential.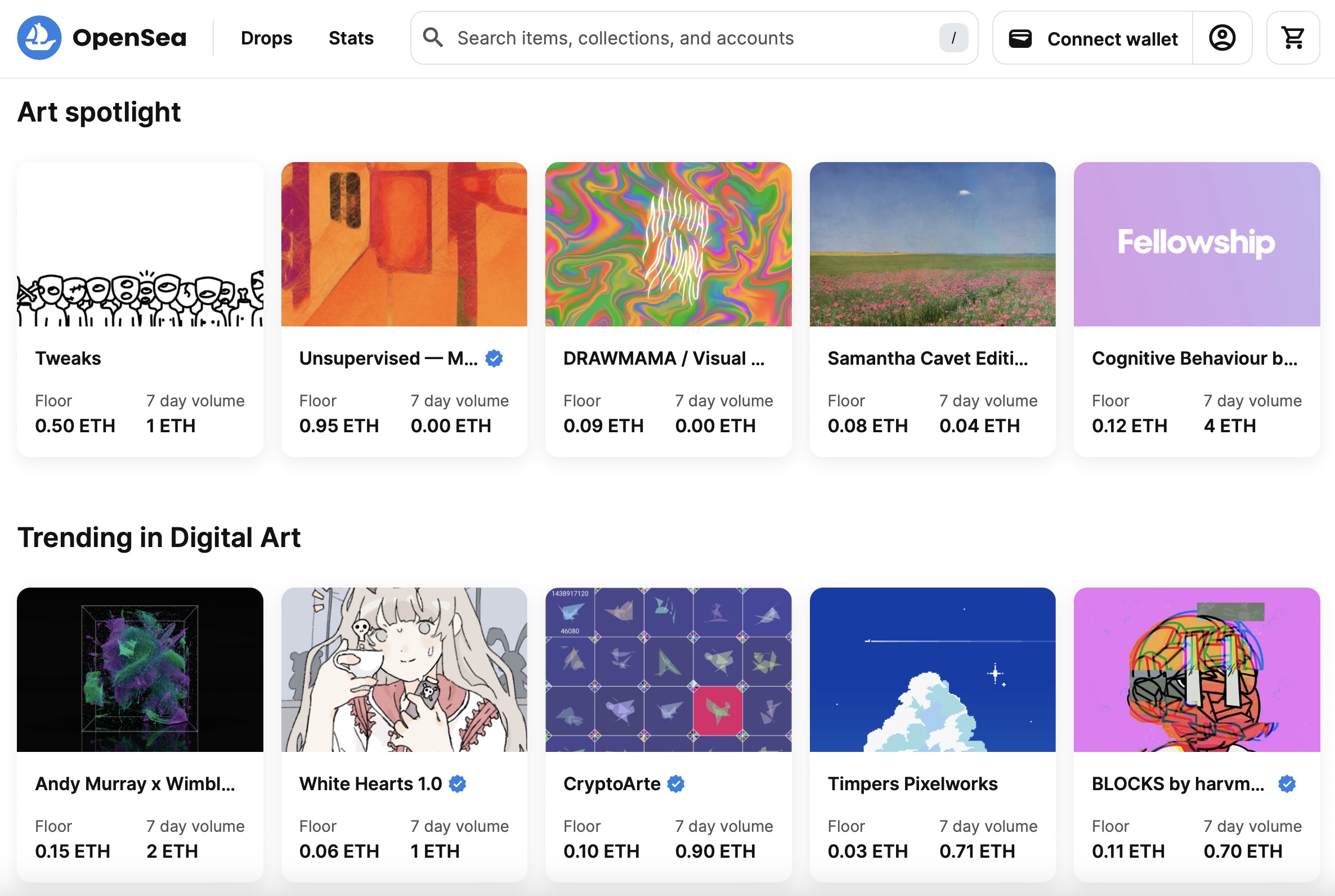 Selling art NFTs on online marketplaces like OpenSea is one of the monetization opportunities available to galleries and collectors.
As evident, the art industry constantly experiments with cutting-edge solutions to expand its offers and provide art institutions and collectors with new avenues for art collecting. At first glance, these solutions may seem similar to digital dossiers and art NFTs, but in reality, they provide different opportunities. That's why we highly encourage you to keep following the news in the art industry and find the technology that best suits your organization's needs.
Otherwise, you can always rely on experts in the art industry, such as Digital Basel, who can provide professional guidance and address any concerns you may have.