Sum Up Of Art Basel 2023 – The Leading Event For Galleries And Collectors Alike
As with any other year, Art Basel marked the start of the 2023 summer for the art community. The event showcased 284 art installations from 36 countries and regions, making it a must-attend destination for art connoisseurs worldwide. Thus, a never-ending stream of visitors was expected, even at the VIP opening on Tuesday, the 15th, resulting in long queues and limited free space at some art booths.
For all the culture-thirsty audience, the 2023 edition of Art Basel prepared 21 first-time exhibitors, 4,000 artworks, numerous art booths, and various sub-events all across the city that cover topics like art NFTs or ownership in the digital era. The highlight of this year's fair was the division into two topic-focused sectors: Feature, where artworks relate to historical discoveries, and Statements, where emerging artists presented their masterpieces to the public.
Noah Horowitz, Art Basel CEO, commented that he sees Art Basel as "the single most important annual event in the global art market, with the week serving as a barometer of the industry more than any other singular event." While some may be skeptical about taking this event into such high regard, collectors who attend Art Basel tend to agree with that statement.
For example, the founder and president of Fondazione Sandretto Re Rebaudengo, Patrizia Sandretto Re Rebaudengo, stated that Art Basel 2023 was another successful and valuable edition. It was a great space to uncover insights, build connections, immerse in contemporary art, and discover new talents.
She especially admired Art Basel's Unlimited sector, which hosted large-scale and time-based installations, providing fresh and exciting perspectives on art. Moreover, her satisfaction with Art Basel was shared by others who praised the masterful organization, the broad range of topics, and the abundance of media.
Overall, even in the face of the art market backdrop and turbulence in the global economy, Art Basel managed to brighten the community's mood. Not only were the sales consistently high, but there was also an opportunity to reconcile with the Asian art community, as many collectors and institutions from the East came to participate in the fair. So, let's revisit what made the 2023 edition of Art Basel truly remarkable.
5 Top-Selling Galleries
Selling not only a Louise Bourgeois bronze spider for $22.5 million alone but also 45 other artworks over the first two days alone, Hauser & Wirth can be confidently considered one of the top-selling galleries of Art Basel 2023.
Among their other noteworthy sales are the following:
Philip Guston's Four Heads (1975) for $9.5 million;
George Condo's Figures in a Garden (2009) for $5.5 million;
Jack Whitten's Golden Spaces (1971) for $3.2 million;
Ed Clark's Gray Motion (2008) for $1.5 million;
Mark Bradford's 2000 Acres Listed (2023) for $3.5 million;
Glenn Ligon's Stranger #95 (2023) for $2 million;
Rashid Johnson's True Colors (2022) for $975,000.
Although Pace Gallery didn't provide the actual price of the Joan Mitchell work from 1963, it was sold on the second day, likely surpassing the asking price of $14 million. In addition, Pace Gallery executed several other deals that helped it get into our list, including:
Alexander Calder's Untitled sculptures (1976) for $2.5 million;
Alexander Calder's Gingerbread Man (1971) for $1.5 million;
Nigel Cooke's Promethean Spring (2023) for $425,000;
Marina Perez Simão's Untitled, oil on linen (2023) for $195,000;
Elmgreen & Dragset's three artworks, titled The Guardian (2023), were sold for $350,000–$425,000.
One of the leading contemporary galleries, White Cube, wasn't left behind and made several VIP sales. Among them was Mark Bradford's painting from 2014, titled The Less Common Royalness, which was sold for $4.5 million.
Noah Davis's Pueblo del Rio: Vernon (2014) for $2.75 million;
Anselm Kiefer's Whoever has no house now, will never have one (for R. M. Rilke) for $1.2 million;
Doris Salcedo's Tabula Rasa XI (2019–23) for $1.13 million;
Tracey Emin's You hurt me – You hurt me – You hurt me (2023), for $1.23 million.
Despite declaring that the gallery would only inform of future sales on the primary market, it shared with the public several transactions made at the fair. Among them are:
Alice Neel's portrait Eddie (1968) for $2.8 million;
Noah Davis's Graduation (2015) for $2 million;
Josef Albers's Homage to the Square (1968) for $1.8 million;
Robert Ryman's Untitled (1998) for $1.5 million;
Bridget Riley's Intervals 18 (2022) for $1.65 million;
Elizabeth Peyton's Spencer Drawing (1999) for $1 million.
The Belgian gallery, which is known for its dedication to freedom of expression and contribution to contemporary creativity, has also settled a few high-priced deals. For example, there was a deal worth around $3 million to $3.5 million for a 1968 work by Pablo Picasso, and another deal worth around $1.08 million to $1.27 million for Still Life with Blonde and Goldfish by Tom Wesselmann.
In addition to older and well-known works, Almine Rech's reported a few sales of the more modern art like:
Ewa Juszkiewicz's Bird of Paradise (2023) for $600,000–$700,000;
Scott Kahn's Fireflies (2022–23) within the $500,000–$600,000 range;
Javier Calleja's Ready for Life (2023) is within the $436,000–$545,000 range.
Top 3 Art Booths By Digital Basel
During the event, we have seen many outstanding booths in all sectors. However, we selected three galleries that stood out and left a lasting impression on us.
Pilar Corrias is a gallery in London dedicated to helping new talents grow and establish themselves among leading artists. The gallery brought a wide range of playful and heart-twisting art pieces that demonstrate everything that the team behind the art institution stands for. Among all the artworks, we were especially fond of Phillippe Parreno's work Speech Bubbles. It consisted of 1,500 bright orange Mylar balloons floating on the ceiling. Vibrant, warm, and ethereal, it captivated our attention, reminding us of conversations with close ones that should continue and fill our hearts with deep feelings of happiness.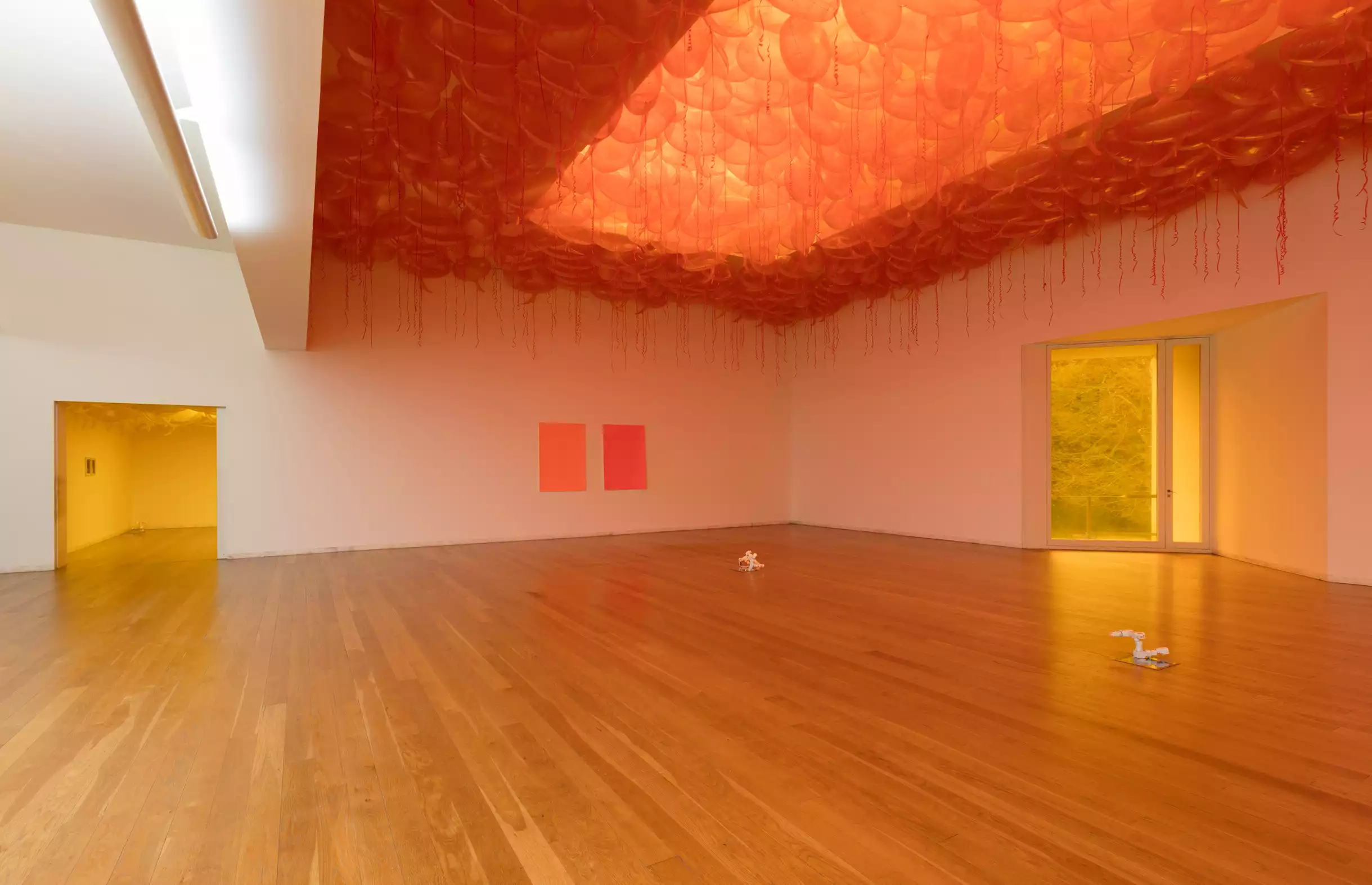 Philippe Parreno, Speech Bubbles (Transparent Orange), 2016 Pilar Corrias Gallery.
For the 2023 edition, Bridget Donahue's gallery from New York stuck to its core goal to host primarily solo exhibitions. For this year's edition, the gallery participated in the Statements section with Japanese artist Satoshi Kojima.
While others used various formats to make their exhibition more diverse, Satoshi Kojima remained dedicated to his distinctive art style, which combines vibrating patterns, pastel color pallets, and surreal imagery. When you look at his artworks, which portray ambiguous characters in various acts, you feel immersed in a reality where natural and cosmic exist in synergy. In addition, the light and gentle hues amplify the effect on viewers by creating a distinctive and eye-catching color approach for the unique artist's world.
Despite featuring just a handful of works, the booth effectively uses Satoshi's peculiar world and fusion of hues, pigments, forms, and stories to captivate visitors and stand out among other galleries.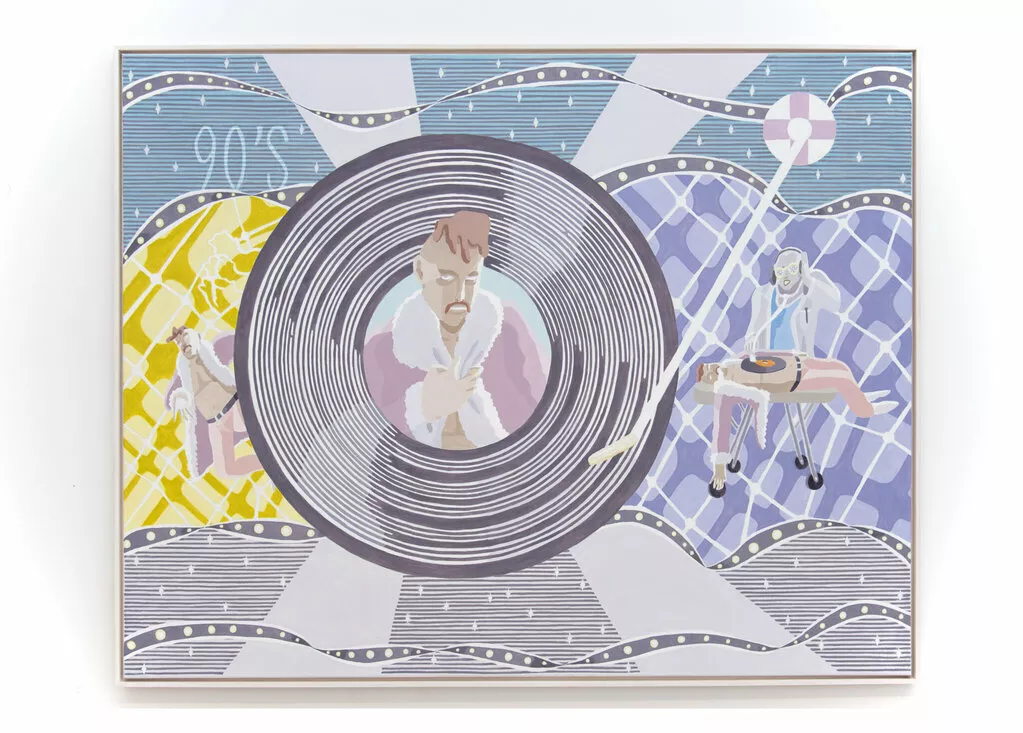 Satoshi Kojima, Heart attack, 2022. Courtesy of the artist and Bridget Donahue.
Instead of concentrating on contemporary achievements, Company Gallery decided to celebrate the history of Art Basel by depicting the story of Colette Lumiere. In 1977, Massimo Minini invited her to perform in an art event, now widely known as Art Basel.
In 2023, the performance, which changed the international art world decades ago, was exhibited in the form of reproduction. Using a silicone mannequin of Lumiere dressed in a corset and surrounded by fabric, the gallery created Colette's sculpture that immerses visitors in the time of the original display. That way, visitors not only could see the performance presented half a century ago but also take part in Art Basel history.
In our mind, this chance to connect with the art community of that time makes the booth of the Company Gallery one of the fair's highlights.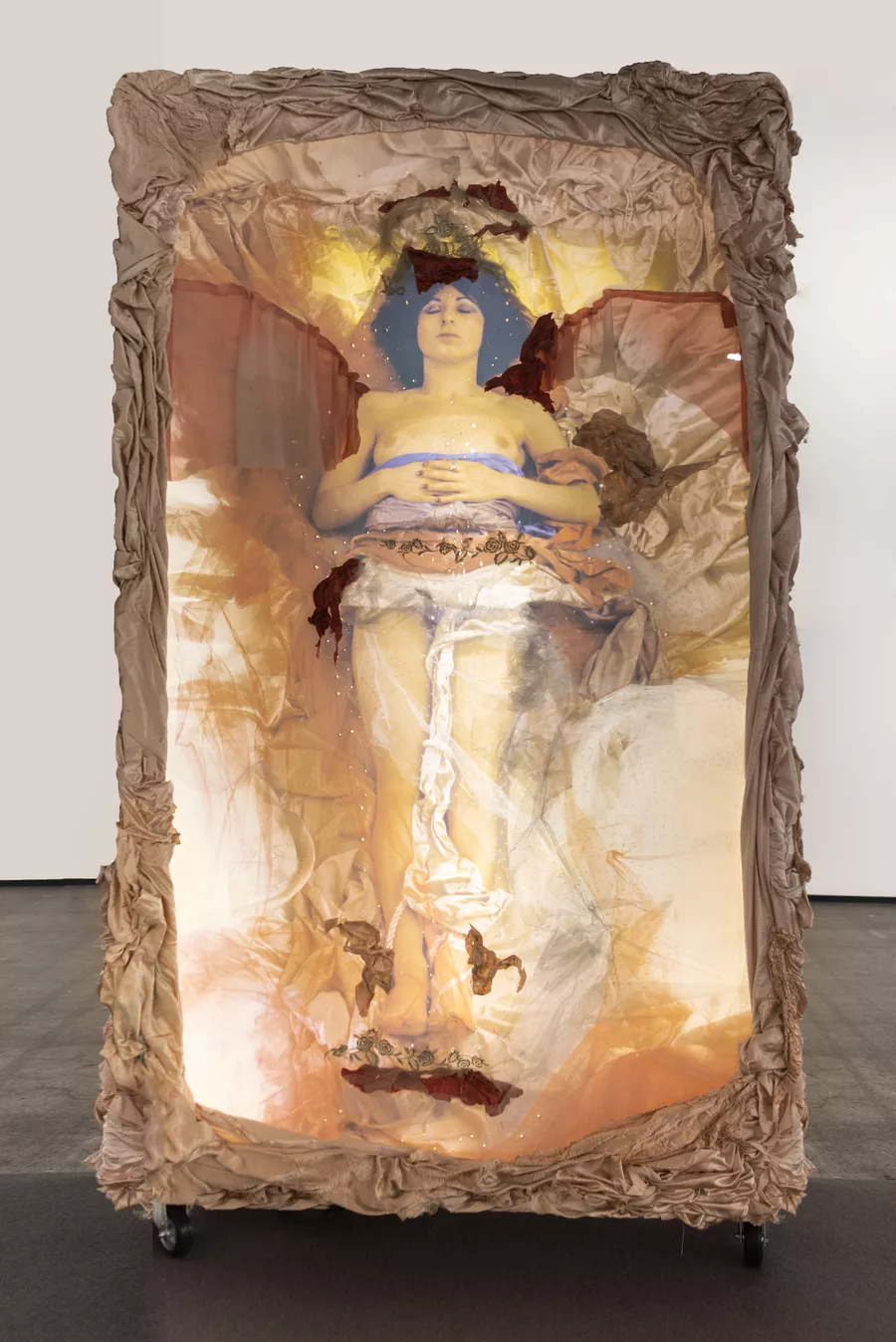 Colette Lumiere, The Messenger, 1978, reconstruction 2021–23. Courtesy of the artist and Company Gallery.
Although Art Basel has already concluded, we are still in the middle of the year, so there are even more exciting events on the horizon that will host outstanding artists and galleries. Thus, it's crucial to stay updated on all the latest industry news.
So, if you don't want to miss any art events, we highly recommend checking the list that our specialists deem interesting for all art lovers.