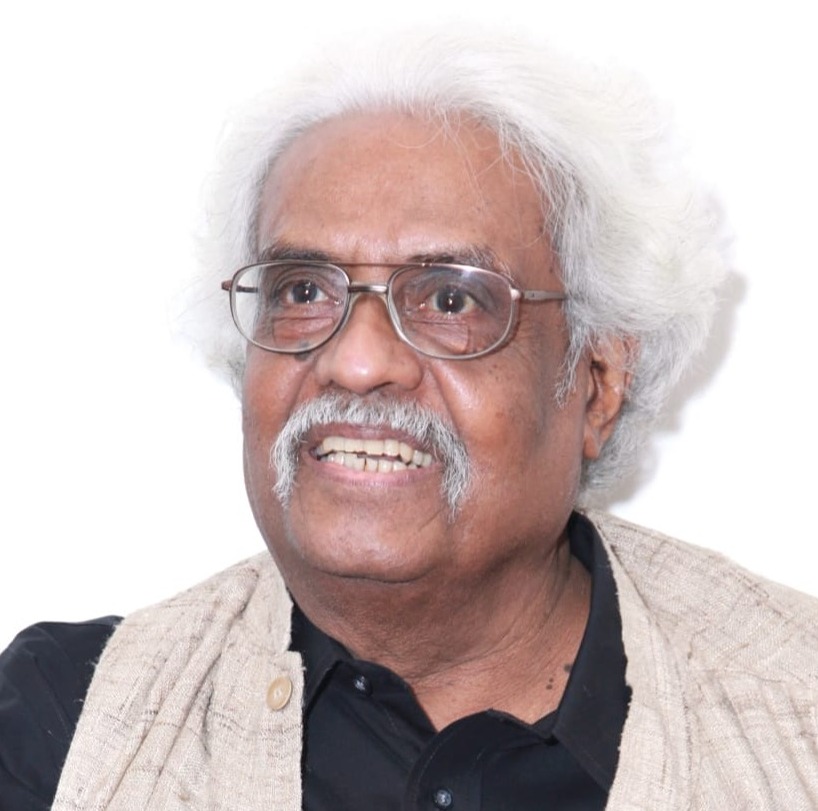 A. Ramachandran
This artist's profile and the listed artworks have been verified and approved by Vadehra Art Gallery
A. Ramachandran stands as one of India's most eminent and prolific artists, dedicating over five decades to relentless experimentation with the visual language.
Biography of A. Ramachandran
Achutan Ramachandran was born in 1935 in Attingal, Kerala. He obtained his Master's degree in Malayalam literature in 1957. Pursuing his artistic interests, he enrolled at Kala Bhavan, Santiniketan, where he received comprehensive art education and training from renowned masters like Ramkinkar Baij and Benode Behari Mukherjee, completing his studies in art in 1961. He also conducted his doctoral research on Kerala mural painting between 1961 and 1964.
In the mid-1960s, Ramachandran moved to Delhi and embarked on an academic career as a lecturer in art education at Jamia Millia Islamia in 1965. Later, he became a professor in the same department and remained associated with the university until he voluntarily retired in 1992. In 1991, the artist was appointed honorary chairman of Kerala Lalithakala Akademi and received the title of Professor Emeritus at Jamia Millia Islamia University in 2005.
His influence extends beyond India's borders, as evidenced by his participation in various international events. In 1986, he was invited to Japan as a keynote speaker at the 20th Congress of the International Board on Books for Young People in Tokyo and the International Symposium of the Japanese Board on Books for Young People in Oita. In 1996, he participated in a workshop campaign for literacy and illustrations in Papua New Guinea as part of an international team of experts for UNESCO.
Throughout his artistic journey, Ramachandran has been honored with numerous prestigious awards, including the Padma Bhushan in 2005, the Raja Ravi Verma Puruskar in 2003, and the National Award for Painting in both 1973 and 1969.
Currently, the artist resides and works in New Delhi.
A. Ramachandran's art style
Deeply inspired by Indian classical art, with a profound impact of Nandalal Bose, Ramachandran has honed his mastery in Indian aesthetics, skillfully blending archetypal Indian imagery and socio-political symbols into a modernist artistic expression. Immersed in the rich cultural and intellectual milieu of Santiniketan, he became more closely connected with the art traditions of India and other eastern civilizations. There, he embarked on his lifelong exploration of the mural painting tradition of Kerala's temples.
In the early stages of his artistic career, Ramachandran's paintings reflected an expressionistic style that captured the existential angst prevalent in urban life. However, a vital transformation occurred in his artistic style during the 1980s. Ramachandran shifted his focus from urban realities to the enchanting lives of tribal communities, particularly those from Rajasthan. Their culture and way of life deeply captivated his imagination. His art began incorporating decorative elements, dramatic ambiance, and weaving in mythical elements with his powerful lines and understanding of color and form.
A. Ramachandran is known for his versatility in creating both large-scale murals and intimate miniatures, and his contributions to public art in India are highly celebrated. One notable example of his public art is the rock sculpture at Sriperumbathoor, possibly the largest commission of public art in modern India.
Years:

Born in 1935

Country:

India, Attingal, Kerala

Gallery: