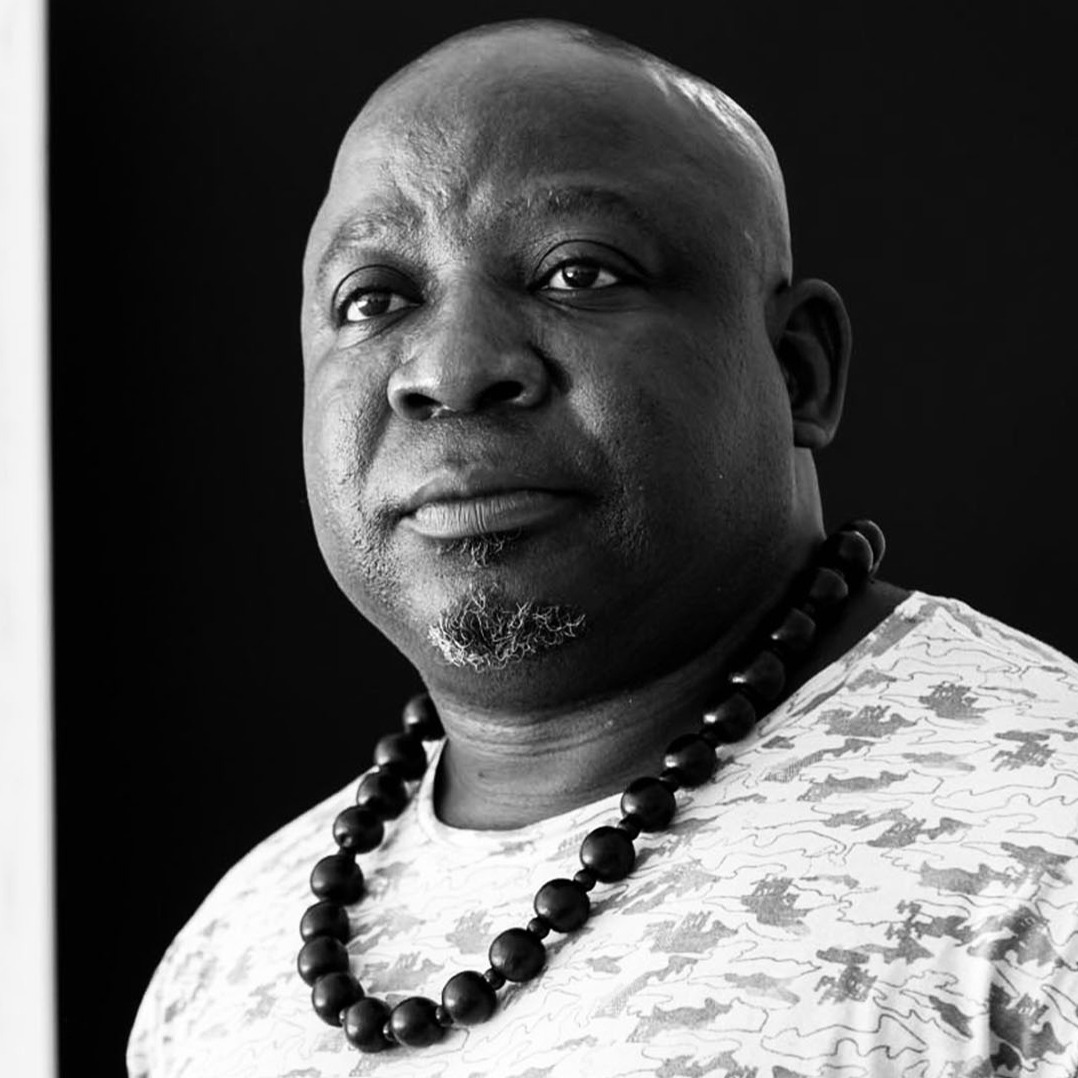 Barthélémy Toguo
This artist's profile and the listed artworks have been verified and approved by Galerie Lelong & Co.
Barthélémy Toguo is a Cameroonian artist who was born in 1967, M'Balmayo, Cameroon. His artistic practice is characterized by its diversity, and he employs various media and techniques to convey his ideas and emotions. Toguo's work often addresses themes related to identity, borders, migration, globalization, and the human condition.
Barthélémy Toguo's Early Life and Background
Raised in Cameroon, Barthélémy Toguo later divided his time between Paris, France, and Bandjoun, Cameroon. This dual cultural experience, along with his dual French and Cameroonian nationality, profoundly influenced his artistic identity and the themes he explores in his work.
Toguo attended the National School of Fine Arts in Abidjan, Ivory Coast. He decided to continue his studies in France, seeking a different instructional approach that would provide him with greater creative freedom in his personal research. He studied at the Grenoble's Graduate School of Art and later joined Klaus Rinke's studio at the Kunstakademie in Düsseldorf.
That experience expanded his artistic horizons, introducing him to photography, video, and performance art. This diverse background significantly shaped his multidisciplinary approach to art.
Barthélémy Toguo's Art Style
Toguo's artistic practice is remarkably diverse, spanning painting, drawing, sculpture, photography, performance, and installation. He defies categorization, allowing the content of his work to dictate the medium. This flexibility enables him to address a wide range of subjects with precision and impact, making his art both visually and conceptually rich.
At the core of Toguo's art lies the exploration of profound themes. He addresses issues such as borders, exile, displacement, and belonging, drawing from his personal experience of straddling different cultural worlds. His work often incorporates poetic and figurative elements that connect nature with the human body, highlighting ecological and societal concerns. Toguo's art is deeply rooted in contemporary events and humanitarian crises, such as the #BlackLivesMatter movement and the refugee crisis.
Barthélémy Toguo: Exhibitions and Recognitions
In 2008, Barthélémy Toguo founded Bandjoun Station in his native Cameroon, a pivotal initiative aimed at nurturing contemporary art and culture within the local community. This multifaceted community center includes an exhibition space, a library, artist residencies, and an organic farm, serving as a vibrant hub for artistic expression and cultural enrichment.
Toguo has showcased his work in numerous group shows around the world, including the Sydney Biennale (2011, 2022), Echigo-Tsumari Art Triennale (2018), Kochi-Muziris Biennale, India (2018), 56th Venice Biennale (2015), Havana Biennial (2012); 11th Biennale de Lyon (2011); and Dakar Biennale (2000, 2010, 2016, 2018, 2022). Solo exhibitions of his work have been presented at institutions including La Verrière by Hermès, Brussels; Uppsala Art Museum, Sweden; Fundaçao Gulbenkian, Lisbon; Palais de Tokyo, Paris; Musée d'art moderne et contemporain de Saint-Etiennne, France.
Barthélémy Toguo's art has found a place in prestigious collections globally, including the Museum of Modern Art and Studio Museum in Harlem, New York; Centre Georges Pompidou, Paris; Musée d'art contemporain, Lyon; Fondation Louis Vuitton; and Kunstsammlungen der Stadt, Düsseldorf, among other esteemed institutions and private collections around the world.
Years:

Born in 1967

Country:

Cameroon, Bandjoun

Gallery: