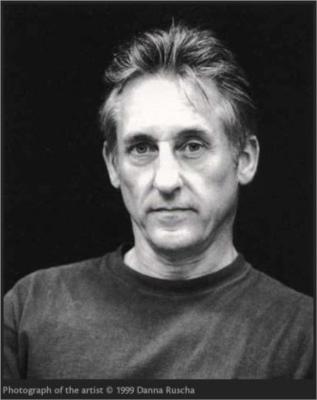 Edward Ruscha
This artist's profile and the listed artworks have been verified and approved by Luxembourg + Co., Gagosian
Ed Ruscha, a prominent American visual artist, is closely associated with the Pop Art movement. He works across various artistic mediums, including photography, drawing, and painting, and has created numerous artist books.
Biography of Ed Ruscha
Ed Ruscha, born in 1937 in Omaha, Nebraska, pursued studies in painting, photography, and graphic design at the California Institute of the Arts. Ruscha's mother supported her son's artistic talents and interests. From a young age, Ruscha displayed a keen interest in cartoons and comics, a passion that persisted throughout his adolescence. Much like Andy Warhol and Roy Lichtenstein, Ruscha's artistic skills were grounded in commercial art.
In addition to his fascination with cartoons, Ruscha harbored a deep love for graphic design and typography, a trait that is evident in his works, where various words and phrases are thoughtfully integrated with the imagery and background colors.
Photography played a pivotal role throughout Ed Ruscha's career. His photography journey began in 1961 during a family trip to Europe. Ruscha's photographic style is characterized by simplicity and directness, occasionally verging on deadpan. His subjects often lack conventional aesthetic values. Humans seldom appear in Ruscha's photos, as his focus primarily revolves around formal still lifes and straightforward environments. Since 1964, Ruscha has been exploring quirky comic and satirical expressions related to popular culture and life in Los Angeles.
Ruscha's approach to photography aligns with conceptual art, especially evident in his art books. One of his most renowned photographic books, "Every Building on Sunset Strip," is based on the negatives of six images from his book.
In April 1972, Ruscha gained significant public exposure for his edible art when his photograph spelling out the name of a magazine using pieces of food graced the cover of ARTNews. Another notable example of his use of unconventional materials is the piece "Fruit Metrecal Hollywood," where he employed apricot and grape jam to paint on paper.
During his time in Los Angeles, Ruscha developed a profound obsession with Hollywood and all that it symbolized. He went so far as to state that "Hollywood is a verb," emphasizing its crucial role in his art and its standing as his favorite source of inspiration. In 1973, Ruscha even captured the entirety of Hollywood Boulevard through his photography. His affection for Hollywood deepened further as he became involved in the movie industry.
During the 1970s, alongside his photographic works, Ruscha ventured into filmmaking, producing several short films such as "Premium" in 1971 and "Miracle" in 1975. In 1984, Ruscha even had a small role in the film "Choose Me," directed by Alan Rudolph. In 2010, he made another appearance in the film titled "Sleepwalkers."
Also, in 1970, Ruscha participated in the Venice Biennale and established his own printmaking workshop. He notably designed the "Chocolate Room," an innovative 360-degree visual and sensory experience that fully immersed visitors in the alluring world of chocolate, infusing the entire pavilion in Venice with its enticing scent.
The artist boasts an extensive exhibition history, actively showcasing his work since the 1960s. One of his earliest significant public commissions was a monumental mural at the Museum of Contemporary Art in San Diego in 1966, as well as a large 360-degree panel created for the Public Library in Denver. In 1998, Ruscha embarked on another substantial public project, crafting a thirty-foot-high painting titled "Picture Without Words" for the Harold M. Williams Auditorium. In 2014, he completed his first public commission in New York City, a large mural titled "Honey, I Twisted Through More Damn Traffic Today." Additionally, Ruscha contributed to the celebration of the 75th anniversary of the San Francisco Museum of Modern Art by designing a limited-edition series of T-shirts. He has also undertaken numerous private commissioned works, including "Public Stoning" from 2007, "Boy Meets Girl" from 1987, and "Stella" from 2001.
Edward Ruscha's contributions to the art world have been celebrated in numerous museum retrospectives. His first retrospective was held in 1983 at the San Francisco Museum of Modern Art. The J. Paul Getty Museum in Los Angeles organized another significant retrospective of his work in 1998, and the Whitney Museum of American Art followed suit in 2004. In 2006, European museums joined the ranks by organizing retrospectives of Ruscha's remarkable work, with exhibitions at the Jeu de Paume in Paris, the Kunsthaus Zurich, and the Museum Ludwig in Cologne.
Ed Ruscha's Art Style
When considering the themes of Ed Ruscha's works from the mid-1960s and 1970s, they aimed to merge representational and absurd elements, creating a surreal atmosphere. These works often depicted bouncing and floating objects and played with distortions of size and proportions. Ruscha's style from this era strongly resembled Surrealism, holding an important place in his artistic career. A recurrent motif in his work during this period was the depiction of a pencil, often broken, melted, or transformed, akin to the objects seen in the famous paintings of Salvador Dali.
Ruscha's word paintings are a manifestation of his enduring fascination with words and typography. His initial exploration of this style involved oil paintings on paper, created in Paris in 1961. From 1966 to 1969, Ruscha adopted a new approach known as "liquid word paintings." Pieces like "Adios" from 1967 and "Desire" from 1969 were crafted to give the impression that the words had been spilled over a flat surface. During this period, he also experimented with gunpowder and graphite drawings from 1967 to 1970, employing a trompe l'oeil technique to make the words appear as if constructed from curling paper.
During the 1970s, Ruscha embarked on artistic experiments with a wide array of non-traditional and unconventional organic materials. His creative palette included vinyl, blood, red wine, fruits, vegetables, chocolate syrup, tomato paste, coffee, caviar, various plants, eggs, and grass stains. Using these peculiar materials, he crafted his renowned screenprints known as News, Mews, Pews, Brews, Stews, and Dues in the 1970s. These titles alluded to segments of British culture; for instance, "News" represented the tabloid-oriented culture, while "Stews" was connected to typical British dishes.
In the 1970s, Ruscha emerged as a trailblazer in incorporating phrases into visual art alongside artists like Barbara Kruger and Jenny Holzer. This style later became a prominent direction within the post-Pop Art generation. In the mid-1970s, he produced an innovative series of pastel drawings featuring witty phrases, while the early 1980s saw him creating a splendid series of paintings with words superimposed over sunsets and late-night skies.
During the 1990s, Ruscha shifted his artistic style, focusing on producing photorealist images of mountains. He also altered his approach to typography, introducing an all-caps typeface he named "Boy Scout Utility Modern," which contrasted with the fonts he used in his earlier works. It's worth noting that in the mid-1980s, Ruscha employed black or white censor strips in his art to suggest where missing words should be positioned. A similar blank space was also used in his "Silhouette" and "Cityscapes" series.
Years:

Born in 1937

Country:

United States of America, Omaha, Nebraska