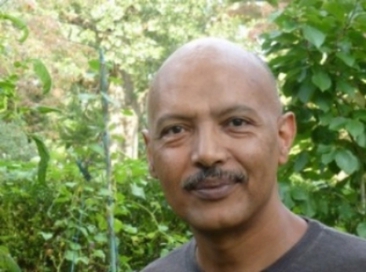 Ficre Ghebreyesus
This artist's profile and the listed artworks have been verified and approved by Galerie Lelong & Co.
Ficre Ghebreyesus was a remarkable Eritrean-American artist known for his diverse and multidisciplinary practice. His artworks encompassed painting, drawing, sculpture, and collage, reflecting his exploration of themes such as identity, migration, and cultural heritage. Ficre Ghebreyesus was also a cultural advocate, working to promote the art and culture of Eritrea and other African countries.
Biography of Ficre Ghebreyesus
Ficre Ghebreyesus was born in Asmara, Eritrea, at the height of the country's War of Independence from Ethiopia (1961-1991). During his teenage years, he was displaced as a refugee, living in Sudan, Italy, and Germany before settling in New Haven, Connecticut, in the United States.
He grew up among a rich mix of cultural influences. Alongside his dedication to humanitarian activism for Eritrean independence and relief efforts, Ghebreyesus pursued his passion for art. He studied painting at the Art Students League and printmaking at the Bob Blackburn Printmaking Workshop in New York City. Further, in 2002 he earned a Master of Fine Arts degree at Yale University and received the prestigious Carol Schlossberg Prize for Excellence in Painting.
In addition to his work as a painter, Ficre was also a chef, and he often used food and cooking as a way to explore cultural identity and tradition. From 1992 to 2008, Ghebreyesus, alongside his brothers, served as the executive chef and co-owner of the highly acclaimed Caffé Adulis, renowned for its innovative Eritrean cuisine that captivated both New Haven and New York City.
Tragically, Ficre died in 2012 at the age of 60. In the years since his death, his work has continued to be celebrated for its vibrant colors, bold patterns, and exploration of cultural identity.
Ficre Ghebreyesus's art style
Ficre Ghebreyesus's art style is characterized by deeply personal and introspective themes influenced by his experience as a refugee. Like many others who have endured displacement, he carried the weight of his losses, including the painful separation from his family and the knowledge of the suffering in his homeland. In his early paintings, Ghebreyesus often depicted nighttime scenes, employing thick layers of paint to create a sense of depth and texture. These scenes are illuminated by solitary sources such as truck headlights or a flickering campfire, emphasizing a sense of isolation and vulnerability. Through his art, Ghebreyesus captures the emotional journey of displacement, drawing attention to the resilience and enduring spirit of individuals navigating unfamiliar territories.
One of his artworks is "The Sardine Fisherman's Funeral" (2002), a monumental 16 feet by 8 feet painting on unstretched canvas. Angelic faces atop the composition overlook a scene below, featuring a massive fish against a deep blue backdrop. Two umbrellas add a touch of beauty and intrigue. This artwork masterfully captures the interplay between human activity and the majestic forces of nature, evoking a sense of contrasting energies.
Having been exposed to a wide range of artistic expressions, from Giotto's Scrovegni Chapel to modernist paintings and African sculptures, Ghebreyesus's vision absorbed diverse influences. In his later paintings, he created a distinct universe characterized by flattened picture planes, where figures, fish, trees, and geometric patterns coexist in a spirited and unrestrained manner. Through his art, Ghebreyesus fashioned an autonomous realm that reflects his unique perspective on life and artistic expression.
Legacy of Ficre Ghebreyesus
Throughout his life, the majority of Ficre Ghebreyesus' paintings remained unseen by the public. However, following his untimely death, his artistic legacy was recognized through notable retrospective exhibitions, including "Ficre Ghebreyesus: City with a River Running Through" at the Museum of the African Diaspora in San Francisco, California, and "POLYCHROMASIA: Selected Paintings by Ficre Ghebreyesus" at Artspace in New Haven, Connecticut. Galerie Lelong & Co. took on the representation of his Estate in 2019, curated the solo exhibition "Ficre Ghebreyesus: Gate to the Blue" in 2020.
The artworks of Ficre Ghebreyesus can be found in prestigious institutions such as the Glenstone Museum in Potomac, Maryland, known for its extensive contemporary art collection. His works also reside in the Studio Museum in Harlem, New York, which is dedicated to promoting the work of artists of African descent, and the Hutchins Center for African & African American Research at Harvard University in Cambridge, Massachusetts, further establishing his significant presence in the art world.
Years:

Born in 1962

Country:

Eritrea, Asmara

Gallery:

Personal website