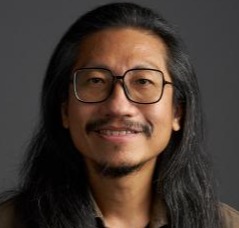 Ian Woo
This artist's profile and the listed artworks have been verified and approved by STPI Gallery
Ian Woo is a prominent abstract artist hailing from Singapore. His artistic endeavors are deeply influenced by various facets of modernism, perceptual abstraction, and the intricate structures found in music improvisation. Ian Woo's distinctive body of work is marked by its ability to evoke a sense of gravitational transformation and representational fluidity. Ian Woo is not only an artist but also a musician.
Biography of Ian Woo
Ian Woo was born in 1967 in Singapore. He takes the helm in leading the MA Fine Arts program, which places a strong emphasis on nurturing artistic practice as a form of research. He played a pivotal role in crafting the curriculum for studio practice research, which has received validation from both Open University and Goldsmiths University. Under his guidance, several artists he has supervised have gained recognition and representation in prestigious events such as the Venice and Singapore Biennales.
Woo's artistic prowess has been showcased prominently in the publication "Art Cities of the Future: 21st Century Avant-Gardes," a notable work published by Phaidon in 2013.
Since 2016, he has been an integral member of the painting collaborative (together with Beth Harland, David Thomas, and Laura Lisbon) known as "Impermanent Durations- On Painting and Time."
Woo's art has garnered international acclaim, with numerous exhibitions held on a global scale. His creative pieces have found their rightful place within the esteemed collections of renowned institutions, including ABN AMRO, Singapore Art Museum, The Istana Singapore, The National Gallery Singapore, Suzhou Center, UBS, and the Mint Museum of Craft & Design in the United States.
In his capacity as a musician, Ian has demonstrated his musical talent by composing and delivering bass guitar performances with groups such as ID and Qianpima. Notably, his musical journey included captivating performances at Singapore's C.H.O.P.P.A Experimental Music Festival, where he showcased his skills from 2008 to 2017.
The artist's accolades include being a finalist in the Sovereign Asian Art Prize (2010), receiving the National Arts Council Local Bursary Award (2003), earning Juror's Choice in both the Philip Morris Group of Companies ASEAN Art Awards (2000) and the Philip Morris Group of Companies Singapore Art Awards (2000 and 1999), winning the Abstract Medium category in The 18th UOB Painting of the Year Art Competition (1999), and being honored with the JCCI Singapore Art Award 1999 by the Japanese Chamber of Commerce and Industry.
Ian Woo's Art Style
Completed in 1998, "Finger Food" features flat, planar fields of color that, like other works from this period, serve as a canvas for more painterly touches that evoke the emergence of forms. Within these green-grey-cream compositions, there's a palpable sense that these forms, brought to life through expressive gestures, are undergoing a process of transformation. This approach hints at potential interpretations related to consumption, materialism, and the sensory qualities of paint, drawing parallels between artistic expression and the palate. Ian Woo's utilization of various elements in his paintings reflects the arrangement of ideas within the artist's mind, aligning with the postmodern and neo-expressionist ethos.
In Ian Woo's exhibition titled "Falling Off Plastic Chairs," viewers are invited to engage with each painting's distinctive gravitational pull and its evocation of time. As they attempt to discern and attribute meaning to the traces and sensations presented, a sense of memory is intricately woven into their interpretation. Initially, the observer is met with a diverse array of forms, marked by varying qualities of the brushwork, yet there is an underlying harmony in the overall color palette. Each frame exudes a sense of tranquility while simultaneously conveying dynamic energy through each expressive brushstroke. The layering within the artworks is profound, hinting at a fleeting moiré effect that rewards the viewer with newfound discoveries upon each extended examination.
Years:

Born in 1967

Country:

Singapore

Gallery: