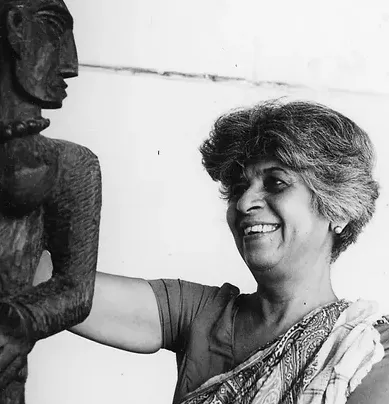 Leela Mukherjee
This artist's profile and the listed artworks have been verified and approved by Vadehra Art Gallery
Leela Mukherjee was an Indian artist of immense talent who showcased her artistic prowess across a diverse range of mediums. Her repertoire encompassed paintings, drawings, sculptures, printmaking, and murals.
Leela Mukherjee's Biography
Leela Mukherjee was born in 1916 in Hyderabad, the Sindh province of what is now Pakistan. Her educational journey began at the Theosophical Girls' School in Benares, and later, she enrolled at Bombay University, where she successfully earned a science degree. Then she studied in the Kala Bhavan in Santiniketan, where she crossed paths with her husband, the renowned artist and teacher Benode Behari Mukherjee. Alongside her artistic pursuits, Leela assisted her husband in creating murals on the Santiniketan campus. One of Leela's most notable contributions was her assistance in the creation of the monumental 1947 wall painting titled "Medieval Indian Saints" at Hindi Bhavana. This work was identified by critic R. Sivakumar as "among the greatest achievements in contemporary Indian painting."
In 1949, when her husband Benode Behari Mukherjee accepted the position of curator at the Nepal Government Museum in Kathmandu, Leela accompanied him. During their time in Nepal, she seized the opportunity to learn the art of wood and stone carving under the guidance of Kulasundar Shilakarmi, a respected Nepali artisan. After leaving Nepal, the couple briefly resided in Rajasthan before settling in Mussoorie.
In Mussoorie, Leela embarked on a new venture by establishing a nursery school, while Benode established a training center for art teachers. As their lives progressed, she took up a full-time teaching position at Welham's Preparatory School in Dehradun.
Leela Mukherjee's sculptures in wood and metal have been featured in various exhibitions, including the prestigious All-India Sculpture Exhibition in 1959 and the Major Trends in Indian Art exhibition in 1997. Her art is included in the permanent collections of the National Gallery of Modern Art and the Lalit Kala Akademi in New Delhi.
She passed away in 2009 at the age of sixty-nine.
Years:

Born in 1916

Country:

India, Hyderabad, Sindh

Gallery: