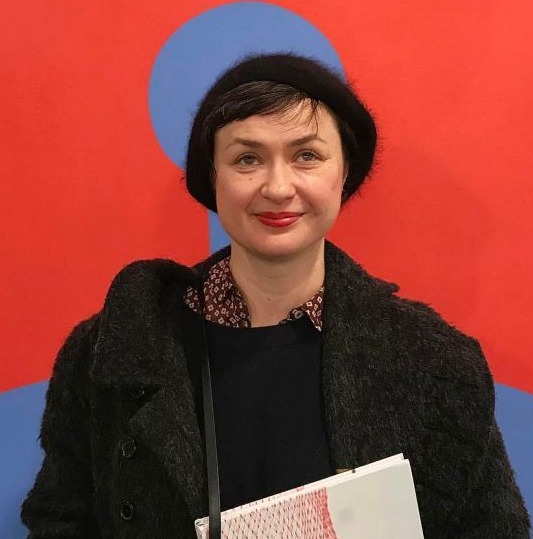 Paulina Olowska
This artist's profile and the listed artworks have been verified and approved by Simon Lee Gallery
Paulina Olowska is a contemporary Polish artist known for her multidisciplinary work, which includes painting, sculpture, photography, collage, and performance art.
Biography of Paulina Olowska
Paulina Olowska was born in 1976 in Gdansk, Poland.
Olowska's art journey began at an early age, and her talent was nurtured during her studies at the School of the Art Institute of Chicago, where she obtained her Bachelor of Fine Arts. Following her time at SAIC, Olowska continued her artistic education at the Faculty of Painting of the Academy of Fine Arts in Gdansk. Her studies allowed her to explore different approaches and experiment with various mediums, further developing her artistic voice.
Throughout her educational journey, Olowska was recognized for her talent and dedication, receiving scholarships from esteemed institutions. She was awarded a scholarship from the Royal Academy of Fine Arts in the Hague. Additionally, she received scholarships from Centro de Art Communication Visual (Arco) in Lisbon, the Center of Contemporary Art in Kitakyushu, and the Rijksakademie van Beeldende Kunsten in Amsterdam. These scholarships allowed her to immerse herself in diverse cultural environments, interact with fellow artists, and further expand her artistic repertoire.
In May 2003, Paulina Olowska embarked on a collaborative venture with Lucy McKenzie, jointly establishing the underground bar "Nova Popularna" in Warsaw. This unique endeavor provided a platform for weekly concerts and performances, fostering a vibrant cultural hub within the city.
Paulina Olowska's art style
Paulina Olowska's artistic practice is distinguished by a skillful fusion of various artistic mediums, resulting in a captivating synthesis of different art forms. She embraces a diverse range of techniques, including painting, collage, installation, performance, fashion, and music, allowing her to create a multifaceted body of work.
Olowska's creative endeavors encompass a broad spectrum of artistic interests, with a particular focus on the artistic utopias of modernism. She delves into the foundational concepts of the early Bauhaus movement, as exemplified in her notable project "Bauhaus Yoga" in 2001.
In addition, Olowska draws inspiration from the circles of Russian constructivists, delving into their explorations of form, structure, and abstraction. Moreover, Olowska's artistic investigations delve into the European avant-garde during the early 20th century.
Olowska's work often draws on the aesthetics of modernist art and design, particularly from the 1920s and 1930s. She is interested in exploring how these historical movements intersected with politics, gender, and social issues.
Paulina Olowska has garnered significant institutional recognition for her engaging performances. Among her notable works is "Alphabet" (2005), which was inspired by the book "ABECEDA" by a Czech avant-garde artist Karel Teige.
In "Alphabet," performers skillfully manipulate their bodies to embody and arrange the letters of the alphabet. Departing from traditional forms, they create a new system of meaning through their physical expressions. This innovative exploration challenges conventional understandings and opens up possibilities for alternative modes of communication.
Exhibition of Paulina Olowska
The solo exhibitions of Paulina Olowska have been showcased at esteemed venues such as the Kunsthalle Basel in Basel, Switzerland; the Stedelijk Museum in Amsterdam, Netherlands; and the Zacheta National Gallery of Art in Warsaw, Poland.
In 2014, Paulina Olowska was awarded the esteemed Aachen Art Prize, a highly regarded accolade in the art world.
Years:

Born in 1976

Country:

Poland, Gdańsk

Gallery: