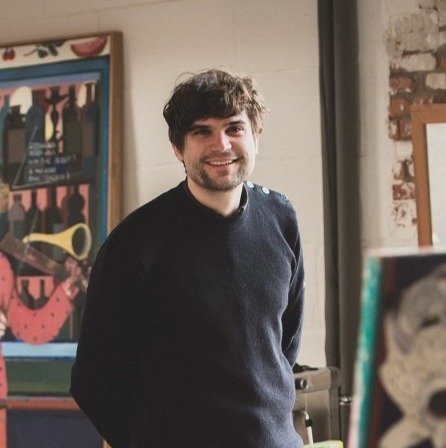 Pieter Jennes
This artist's profile and the listed artworks have been verified and approved by Gallery Sofie Van de Velde
Pieter Jennes is a Belgian artist known for his unique style that draws inspiration from various sources, such as Flemish painters from the 1920s, African masks and folklore, and the cinema of David Lynch and Werner Herzog.
Biography of Pieter Jennes
Pieter Jennes was born in 1990 in Mortsel, Belgium. He studied at the Royal Academy of Fine Arts Antwerp (graduated in 2013) and the University of Ghent (graduated in 2014).
Jennes' exceptional works are part of prestigious collections such as the Vlaamse Gemeenschap, the M HKA Museum of Contemporary Art Antwerp, and the Belfius Collection. Throughout his career, he has showcased his talent in numerous solo exhibitions held at renowned institutions, including Gallery Sofie Van de Velde in Antwerp, Belgium; The White House Gallery in Lovenjoel, Belgium; CIAP in Hasselt, Belgium; and the Public Gallery in London, UK.
Furthermore, Jennes has been an integral part of several group exhibitions, including "Vacation II" at Gallery Vacancy in Shanghai, "Rewilding" at Nino Mier Gallery in Los Angeles, "Danser Brut" at Bozar in Brussels, "De Nacht" at De Warande in Turnhout, "L'Heure Bleue" at Gallery Sofie Van de Velde and PLUS-ONE Gallery in Antwerp, and "NO TIME LIKE THE PRESENT" at PUBLIC Gallery in London.
Currently, the artist is based in Antwerp, Belgium.
Pieter Jennes' Art Style
Jennes delves into profound themes of representation, inclusion, and exclusion through his artistic creations, including paintings and sculptures. In his paintings, Pieter Jennes depicts lively scenes full of blocky figures that often evoke elements of myths and comedic theater performances. Employing vibrant colors, intricate patterns, and engaging textures, the artist juxtaposes elements humorously, transforming his canvases into theatrical sites of ambivalence.
His work strikes a balance between narrativity and his refined painterly style, drawing inspiration from a variety of art-historical references, including the flat perspectives of Islamic miniatures, the satirical mode of Weimar-era artists, and the frontality of theater.
Drawing from the rich Belgian genre painting tradition, Jennes extends and reinterprets it with a whimsical lens, inviting viewers to reassess their daily experiences in a fresh light. The essence of somatic feeling is paramount in his work, evident in the richly colored, densely patterned surfaces and the moments of contact he depicts between living beings.
Pieter Jennes creates worlds that are both ordinary and enigmatic, portraying diverse scenes such as a man touching a woman's pregnant belly, a human caught gripping a lion's gaping maw, and snails squirming up a sunflower stalk with equal intrigue.
Years:

Born in 1990

Country:

Belgium, Mortsel

Gallery:

Personal website