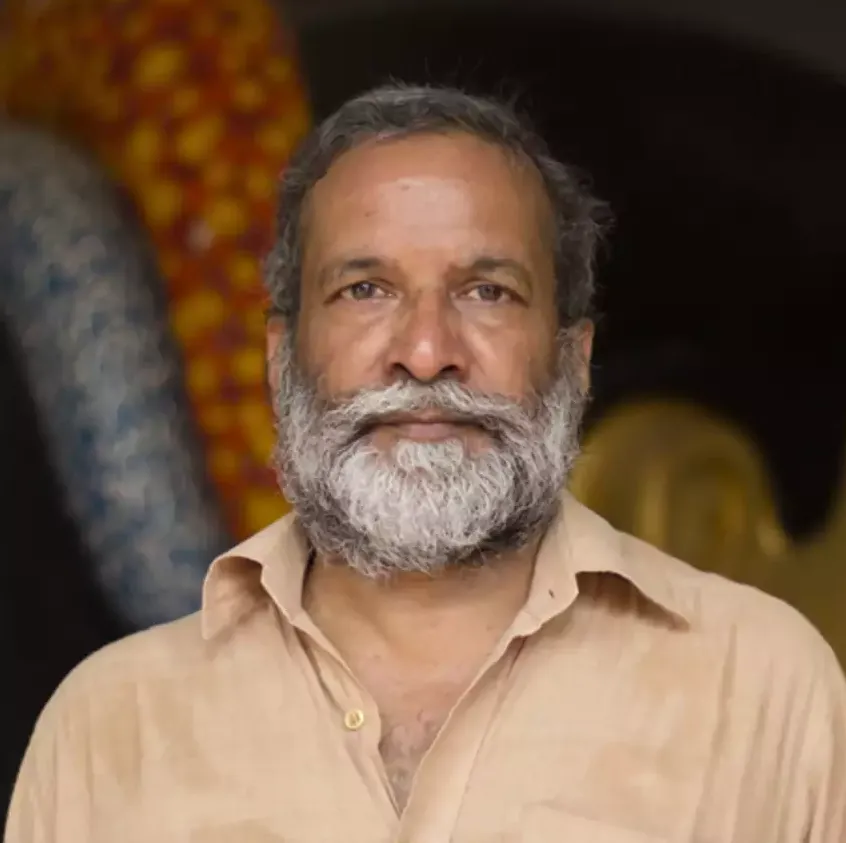 Ravinder Reddy
This artist's profile and the listed artworks have been verified and approved by Vadehra Art Gallery
Ravinder Reddy is a celebrated contemporary Indian sculptor renowned for his large-scale, brightly colored, and highly polished fiberglass and bronze sculptures that embody one of the most universally appreciated subjects: the female form.
Biography of Ravinder Reddy
Ravinder Reddy was born in 1956 in Suryapet, Andhra Pradesh. He earned a Bachelor of Fine Arts in Sculpture and a Master of Arts in Creative Sculpture from the Faculty of Fine Arts at Maharaja Sayajirao University of Baroda. Additionally, he completed various short diploma courses to enhance his artistic skills.
In 2001, he became one of the first contemporary Indian artists to gain critical attention in America with his exhibition at Deitch Projects. His remarkable works have found their place in prestigious collections around the world, including the Victoria & Albert Museum in London, the Peabody Essex Museum in Massachusetts, USA, the Fukuoka Asian Art Museum in Japan, the Frank Cohen Collection in the UK, the Virginia Museum of Fine Arts in Richmond, USA, and the Queensland Art Gallery in Brisbane, Australia. Notably, his pieces have also gained attention in international contemporary art auctions.
Reddy has held numerous solo exhibitions at various venues such as Grosvenor Vadehra in London, the Bose Pacia Gallery in New York, Le Jardin d'Acclimation in Paris, the Andy Warhol Museum in Pittsburgh, USA, and the Sackler Gallery in Washington D.C. His artistic prowess has also been showcased in various group exhibitions at prominent galleries, including Aicon Gallery in New York, Sakshi Gallery in Mumbai, Vadehra Art Gallery in New Delhi, the Smart Museum of Art in Chicago, USA, and Walsh Gallery in Chicago, USA, among others.
Ravinder Reddy resides and continues to create his art in Hyderabad, further enriching the art world with his talent and distinctive approach.
Ravinder Reddy's art style
Ravinder Reddy has consistently focused his work on women, making them the central theme of his creations. His art is a vibrant celebration of the female form, demonstrating his keen attention to detail and deep reverence for femininity. Whether portrayed as imposing giant heads or as figurative, voluptuous sculptures, Reddy's pieces exude a sense of admiration for the essence of womanhood.
His color palette often includes rich tones of gold, red, yellow, and blue. Reddy's sculptures of women feature characteristics such as wide eyes, blocky features, and vividly colorful skin, drawing inspiration from Pop Art portraits. His artistic vision is also deeply influenced by traditional Indian religious statuary, the rich depictions and descriptions of Hindu goddesses, and the women he encounters in his local surroundings.
In their essence, Reddy's sculptures are alluring and monstrous at once. They can be read as celebrations of the female figure in all its shapely variety and as parodies of the conventional ideals of feminine beauty prevalent in both traditional and contemporary Indian culture.
Years:

Born in 1956

Country:

India, Suryapet, Andhra Pradesh

Gallery: