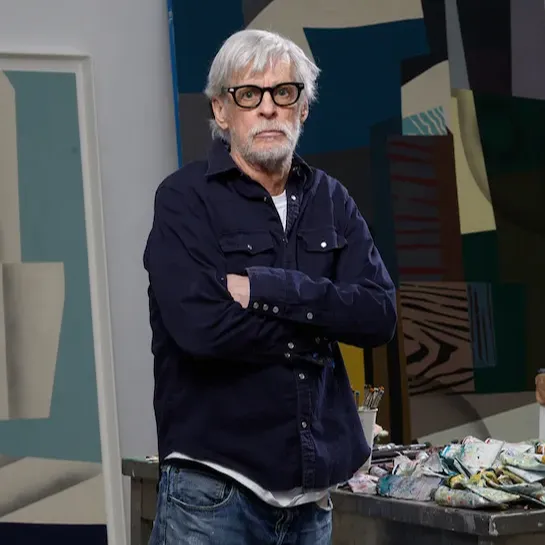 Rodney Graham
This artist's profile and the listed artworks have been verified and approved by Galerie Rüdiger Schöttle
Rodney Graham (1949 – 2022) was a Canadian artist with a prolific career that spanned over five decades. His unique approach involved quotation systems, reference, and adaptation. As an influential figure in Canadian contemporary art, Graham gained recognition for his visually striking photographic conceptual work.
Rodney Graham's Biography
Rodney Graham was born on January 16, 1949, in Abbotsford, Canada. He pursued his studies at the University of British Columbia in Vancouver and furthered his education at Simon Fraser University (SFU). Coming out of Vancouver's vibrant 1970s photo conceptual tradition, Graham's artistic creations were influenced by historical literary, musical, philosophical, and popular references.
During the late 1970s, he played the electric guitar in the band UJ3RK5 with fellow visual artists Jeff Wall and Ian Wallace.
One of Graham's earliest works is "Camera Obscura" (1979; destroyed 1981), a site-specific installation that consisted of a shed-sized optical device on his family's farm field near Abbotsford, British Columbia. When entering the shed, viewers were confronted with an inverted image of a solitary tree. The artist continued to employ the camera obscura technique in his art throughout the 1980s and 1990s.
From the 1980s, Rodney Graham's artistic portfolio underwent an expansive evolution, encompassing diverse mediums, including photography, painting, sculpture, film, video, and music. With his multifaceted talents as an actor, performer, producer, historian, writer, poet, sound engineer, and musician, Graham's art delved deep into the intricacies of Western culture, employing strategies of disguise to explore its complexities.
Rodney Graham was married to the artist Shannon Oksanen. Together, they co-owned Liberty Bakery in Vancouver. The artist passed away on October 22, 2022, in Vancouver at the age of 73.
The art style of Rodney Graham
Rodney Graham's art style can be described as conceptually rich, visually captivating, and intellectually engaging. His ability to seamlessly traverse different mediums and genres, that coupled with his thought-provoking exploration of various themes, has solidified his position as a highly influential contemporary artist.
In his artistic journey, Graham drew inspiration from different sources, ranging from Sigmund Freud and Mallarmé to Richard Wagner, Edgar Allan Poe, Ian Fleming, and the Brothers Grimm. He emulated the styles and ideas of influential figures like Donald Judd and Kurt Cobain while reimagining and reconstructing Albert Hoffmann's experiments with LSD. Through his art, Graham expertly wove together gentle humor and a palpable sense of nostalgia, which permeated his melancholic observations of modernity.
Rodney Graham's Achievements
In 1997, Graham gained international recognition when he represented Canada at the 47th Venice Biennale with his remarkable film piece titled "Vexation Island" (1997). Subsequently, he received several prestigious awards and honors, including the Kurt Schwitters Prize in 2003 and the Gershon Iskowitz Prize in 2004. In 2011, Graham was awarded The Audain Prize for Lifetime Achievement in Visual Arts, British Columbia, Canada. He was appointed as an Officer of the Order of Canada in 2016 for his contributions to Canadian contemporary art.
His work has been showcased in collections worldwide, including Musée National d'Art Moderne – Centre Pompidou in Paris, Tate Britain in London, The Museum of Modern Art in New York, Vancouver Art Gallery in Vancouver, The National Gallery of Canada in Ottawa, Rüdiger Schöttle Gallery in Munich, Germany, MACBA in Barcelona, and Nationalgalerie – Staatliche Museen zu Berlin in Berlin.
Years:

Born in 1949

Country:

Canada, Abbotsford, British Columbia

Gallery: