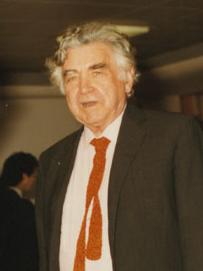 Rodrigo Moynihan
This artist's profile and the listed artworks have been verified and approved by David Nolan Gallery
Rodrigo Moynihan (1910-1990) was a British artist and painter born on October 17, 1910, in Tenerife, Spain. He was the son of a Spanish mother and an English father and spent his childhood in Tenerife before moving to England and relocating later to the United States.
Rodrigo Moynihan's art style
Moynihan showed an early talent for art and pursued his artistic education at the Slade School of Fine Art in London (1928-31). It was here that he began to develop his own unique style, blending elements of Impressionism with a more modernist approach. He was particularly fascinated by the interplay of light and color in his paintings, which became a signature characteristic of his work.
Moynihan's early artistic style was influenced by Post-Impressionism, particularly the works of artists like Paul Cézanne and Vincent Van Gogh. However, he later embraced a more modernist approach, incorporating elements of abstraction and Cubism into his work. Moynihan was a key figure in the art world, known for his role in pioneering a movement called Objective Abstraction.
His paintings were characterized by vibrant colors and expressive brushwork, often depicting landscapes and still lifes. In addition to his other notable works, Moynihan produced a series of self-portraits depicting himself reflected in a mirror.
War and post-war period
During World War II, Moynihan served in the British Army, documenting the war through sketches and paintings. His wartime experiences impacted his art, infusing it with a deep sense of humanity. At that time, Moynihan received the support of Kenneth Clark, the Director of the National Gallery in London. This established Moynihan as the foremost portrait painter in the United Kingdom. Moreover, it opened doors for him, leading to his subsequent appointment as the head of painting at the Royal College of Art after the war. He was also elected a full member of the Royal Academy.
Following the war, Moynihan resumed his artistic career, gaining recognition for his innovative style. He later resigned from both the Royal College of Art and the Royal Academy, signaling a change in direction towards abstraction. He embarked on a new artistic journey, working outside England and exploring Europe and North America. In 1971, Moynihan experienced a renewed inspiration that led him back to figurative painting. He embarked on a series of large-scale studio still-life compositions characterized by their unordered and seemingly random arrangement of objects and shadows.
Rodrigo Moynihan passed away on November 6, 1990, leaving a significant artistic legacy. His works can be found in public and private collections, and he is remembered as a prominent figure in the British art scene, known for his distinctive style and contributions to modern art.
Exhibitions of Rodrigo Moynihan
Rodrigo Moynihan's illustrious exhibited at esteemed galleries in various art capitals around the world. In the UK, his works were showcased at renowned venues such as the Redfern Gallery, the Leicester Galleries, the Hanover Gallery, etc. Across the Atlantic, his art found a home in New York, exhibited at esteemed galleries, including the Charles Egan Gallery, the Tibor de Nagy Gallery, and the Robert Miller Gallery. In Paris, Moynihan's work graced the walls of the Galerie Claude Bernard, among others.
Years:

Born in 1910

Country:

United Kingdom, London

Gallery: