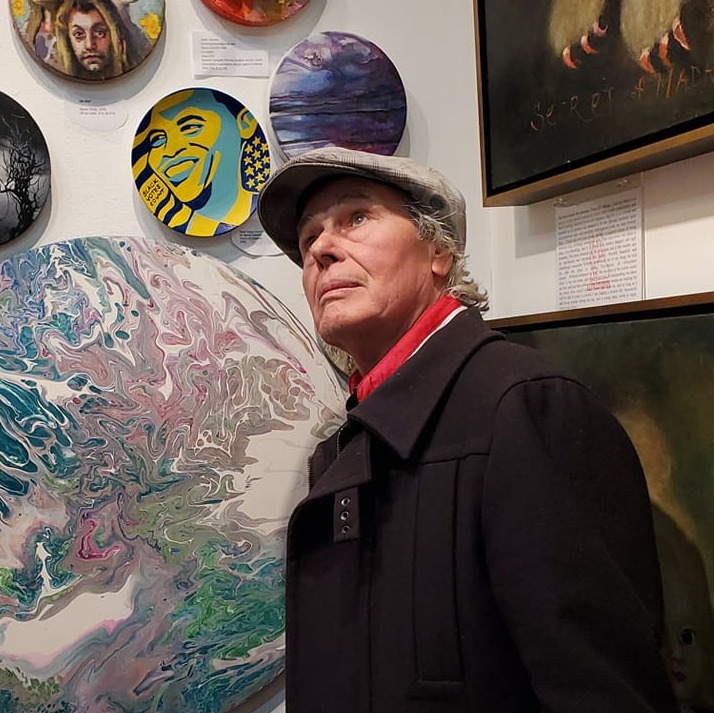 Tom Wright
This artist's profile and the listed artworks have been verified and approved
Tom Wright, a celebrated artist hailing from Los Angeles, is a master of abstract expressions that both captivate and challenge viewers.
Tom Wright: Artist and Visionary
With a prolific body of work spanning his lifetime, Wright's creative journey unfolds across a canvas of imagination and innovation. Recognized for his vibrant acrylics, his artwork transcends conventional boundaries, encompassing impressionism, complex abstraction, and even elements of satire.
Wright's canvases explode with vibrant colors and intricate patterns. His creations resonate with a spectrum of emotions, ranging from somber to joyful to alarming, offering a vivid glimpse into the artist's psyche. His artistic exploration often combines diverse worlds, encouraging audiences to contemplate his creative direction. This open-ended approach allows viewers to immerse themselves in his art, finding personal meaning and connection within each piece.
Tom Wright: Founder and Curator
Beyond his remarkable individual works, Tom Wright's contributions extend to the establishment of the Mobius Gallery in 2003. This gallery displayed his circle of artist friends while also transforming into a space for his personal artistic evolution. This endeavor demonstrates his commitment to fostering creative connections and contributing to the artistic community.
Exhibition Highlights
Tom Wright has participated in many exhibitions where his captivating creations have left a memorable impact. Notable exhibitions include:
West Hollywood Summer Free Jazz & Art Festival in West Hollywood, CA, USA (2021)
The 25th Annual LA Art Show in Los Angeles, CA, USA (2021)
LA Art Show in Los Angeles, CA, USA (2022)
Recognition for Tom Wright
Furthermore, the creativity within Tom Wright's art has been captured from various perspectives, illuminating the profound depth of his work.
"
If you look up 'Renaissance Man,' surely the name 'Tom Wright' would come up — If nothing more than to discuss his varied art, which imitates life. Through his complex journey as an artist, his forms and expressions are reminiscent of the Picassos, the Van Goghs, and the French Impressionists. Something as basic as a shopping bag could be his subject.
Agenda Magazine.
"
Tom Wright's abstract entitled "The Wolf at the Door" may unlock your fear of the unknown by focusing on the wolf's menacing image at the door to your world, peeping through the door blinds. On further evaluation, there seems to be a faceless image with an orange hat that makes the viewer question whether or not the wolf is on the inside, and the orange faceless image is looking in! We don't know, what an eerie and scary feeling; it made our hair stand up!
The Hollywood Times.
Country:

United States of America, Los Angeles

Personal website