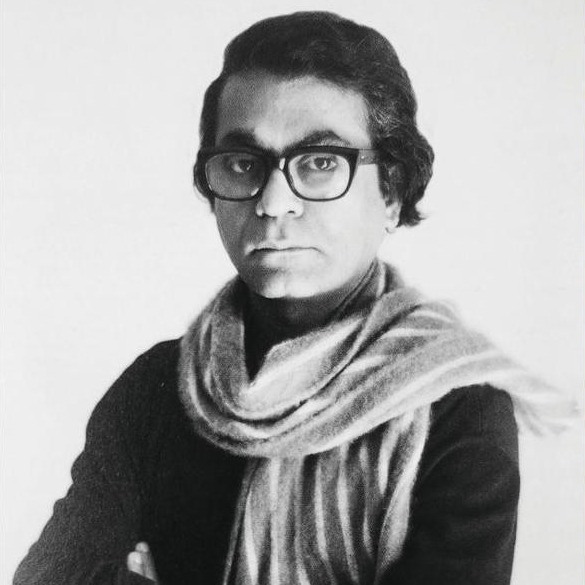 Vasudeo S. Gaitonde
This artist's profile and the listed artworks have been verified and approved by Vadehra Art Gallery
Vasudeo S. Gaitonde was an esteemed modern abstract painter and one of India's most influential artists. He played a significant role in the abstract painting movement of his country.
Vasudeo S. Gaitonde's Biography
Vasudeo S. Gaitonde was born in 1924 in Nagpur, Maharashtra, to Goan parents. His formative years were spent in Goa before relocating to Bombay at a young age. Growing up in a working-class tenement in Khotachiwadi, Girgaon, he often slept beneath the staircase leading down from the landing of their rented room.
In 1943, he received a scholarship to study at the Sir J. J. School of Art in Bombay. In 1948, he completed his education, and from 1948 to 1950, he became a fellow at the institution. During his time there, he had the opportunity to study under the guidance of Professor Jagannath M. Ahivasi, who acquainted the young artist with compositional techniques associated with Indian mural painting and miniatures. In 1950, he was welcomed into the influential Bombay Progressive Artists' Group, established in 1947 by artists such as Francis Newton Souza, S. H. Raza, and Maqbool Fida Husain. He actively engaged in the group's activities and contributed to their collective exhibitions.
Vasudeo S. Gaitonde won the Fleischmann Prize at the First Young Asian Artists Exhibition held in Tokyo in 1957. By 1963, Gaitonde's talent had gained recognition beyond India's borders with exhibitions at Gallery 63 in New York and Gallery One in London. These highly acclaimed shows led to Gaitonde being awarded the prestigious Rockefeller Fellowship in 1964. The fellowship provided him with a year-long stay in New York and a stipend for travel to Bangkok, Tokyo, and Hong Kong.
In 1972, the Government of India awarded him with the highly prestigious Padma Shri.
Gaitonde resided and worked in the Nizamuddin East region of Delhi, and passed away in 2001.
Vasudeo S. Gaitonde's art style
Gaitonde created a limited number of works during his lifetime, mainly due to his philosophical and meticulous approach to art. In 1959, he decided to abandon his use of colored watercolors, pastels, and solitary brushwork on paper, instead embarking on a new direction with his roller works on both canvas and paper.
Then, in 1961, he further embraced a monochromatic palette, primarily employing ink or ink and wash on paper. This transition aligned with Gaitonde's growing interest in Zen Buddhism and the principles of calligraphy, as evidenced by a series of works on paper created in 1962. During the 1960s, he incorporated the use of rollers and palette knives as painting instruments. Around 1968, a noticeable shift occurred from horizontal canvases to the prevalence of vertical formats, which he continued to utilize in his works until his final pieces in 1997-98.
However, in September 1984, Gaitonde experienced an auto accident in New Delhi, which left him unable to work on large canvases. As a result, he turned his attention to smaller format works on paper. His ink drawings from 1985 to 1987 became an important facet of his overall body of work. These drawings encompassed non-mimetic calligraphic and hieroglyphic markings, executed through spontaneous gestures and rhythmic movements.
Years:

Born in 1924

Country:

India, Nagpur

Gallery: