Xu Bing
This artist's profile and the listed artworks have been verified and approved by STPI Gallery
Xu Bing is celebrated for his expertise in printmaking and installation art. His artistry faced intense government scrutiny and harsh criticism because it was perceived as a critical commentary on the Chinese government. Xu Bing persistently and ingeniously explores the functions, meanings, and existential aspects of language.
Biography of Xu Bing
Xu Bing, born in 1955 in Chongqing, Sichuan, China, and raised in Beijing, currently divides his time between Beijing and New York City, NY, USA. He holds the prestigious title of A.D. White Professor-at-Large at Cornell University.
In 1975, during the waning years of the Cultural Revolution, he experienced a two-year relocation to the countryside as part of Mao Zedong's "re-education" initiative.
Upon returning to Beijing in 1977, he began his artistic journey by enrolling at the Central Academy of Fine Arts (CAFA), specializing in printmaking. During this period, he also briefly worked as a teacher. In 1987, he obtained his master's degree in Fine Art from CAFA.
In response to the political pressures and artistic constraints in post-Tiananmen China, Xu Bing, like many of his contemporaries, relocated to the United States in 1990, where he was invited by the University of Wisconsin–Madison. He resided in the United States until 2008 when he accepted the role of vice-president at the Beijing Central Academy of Fine Arts.
In 1990–91, Xu Bing had his inaugural U.S. exhibition at the University of Wisconsin–Madison's Elvehjem Museum of Art (now Chazen Museum of Art). This exhibition featured his renowned installations, "A Book from the Sky" and "Ghosts Pounding the Wall."
In 2004, Xu Bing secured a scholarship for a study program at the American Academy in Berlin, marking a notable milestone in his career.
Finally, in 2008, he returned to China, taking up the esteemed position at the Central Academy of Fine Arts.
Xu Bing's Art Style
At the core of Xu Bing's artistic philosophy is the concept of conveying meaning through language, a theme that underlies his exploration of how meanings and written words can be easily manipulated.
During his time at the Central Academy of Fine Arts, Xu Bing honed his skills in the prevalent Socialist Realism style of art that dominated the Maoist era. However, after earning his degree in printmaking, he diverged from this tradition and ventured into the realm of simplistic yet profound woodcuts. In 1987, Xu Bing returned to his roots in printmaking, further enriching his artistic journey.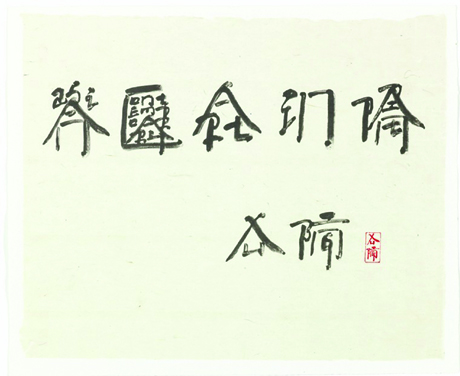 Xu Bing, Asian Contemporary Art in Print, STPI Gallery
Throughout his illustrious career and continuing to the present day, Xu Bing has demonstrated remarkable versatility by working with diverse mediums, including printmaking and wood-block carving, installation art, live installation art, metalwork, sculpture, landscaping, and even virtual and digital platforms.
Notable projects of Xu Bing
Tianshu (Book From the Sky)
"Tianshu" is an installation characterized by meticulously arranged rows of books and hanging scrolls adorned with "Chinese" texts.
Originally presented in Beijing in 1988, the intellectual elite took offense at the artists' audacious decision to create and print more than 4,000 characters that appeared Chinese but held no standard Mandarin meaning.
Xu Bing imparts significance to his work by evoking confusion and discomfort in his audience, primarily because the Chinese characters used in these texts are not considered 'genuine' characters.
Ghosts Pounding the Wall
In an ambitious endeavor, Xu Bing, along with a team of art students and assistance from local residents, embarked on a monumental project. Their mission was to create a rubbing from a portion of the Great Wall located at Jinshanling. Using rice paper and ink, they meticulously executed this task.
The ultimate outcome of their efforts is an installation piece comprising 29 rubbings, each derived from different sections of the Great Wall. Xu Bing described his interpretation of the Great Wall as emblematic of "a kind of thinking that makes no sense and is very conservative, a really closed-in thinking that symbolizes the isolationism of Chinese politics."
Background Story
Within his 'Background Story' series, Xu Bing employs unconventional materials to craft what appears to be a conventional Chinese scroll painting. When viewed from the front, the artwork closely resembles the aesthetics of a traditional Shan Shui (Landscape) scroll painting, featuring depictions of mountains, trees, and rivers. However, an unexpected revelation awaits the viewer when inspecting the piece from behind, as they discover that the exquisite 'painting' is ingeniously formed through the interplay of shapes and shadows cast by random natural plant debris.
Living Word
"In this captivating work, Xu Bing presents over 800 iterations of the word 'bird,' rendered in diverse styles of Square World Calligraphy, an innovative script created by Xu Bing that blends English letters into the appearance of Chinese square characters. This piece begins as printed script and progresses through various stages: regular script, official script, and small seal script, ultimately tracing its lineage back to the 'bird' characters of ancient hieroglyphs. Slowly, these words ascend towards a window, leading them to the open sky.
Awards and Accolades
Xu Bing's remarkable contributions to the world of art have been recognized through a series of prestigious awards and honors. Notably, in 1999, he received the esteemed MacArthur Fellows Program, and in 2003, he was awarded the Fukuoka Prize.
In 2004, he achieved the distinction of winning the inaugural 'Artes Mundi' prize in Wales for his groundbreaking installation, 'Where does the dust collect itself?' This unique creation incorporated dust collected in New York City on the day following the destruction of the World Trade Center.
Furthermore, Xu Bing's work has been prominently featured in renowned international exhibitions, including the Venice Biennale in Italy (1993, 2015), the Biennale of Sydney in Australia (2000, 2002), and the Johannesburg Biennale in South Africa (1997), underscoring his global impact within the art world.
Years:

Born in 1955

Country:

China, Chongqing

Gallery:

Personal website

Social