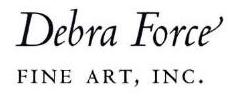 Debra Force Fine Art, Inc
This profile has been verified and approved by representative of the gallery
Debra Force Fine Art, Inc.: Exceptional American Art from the 18th to 20th Centuries
Established in 1999, Debra Force Fine Art, Inc. is a renowned art gallery located on the Upper Eastside of New York. With a specialization in American paintings, drawings, and sculpture from the 18th, 19th, and 20th centuries, the gallery showcases exceptional artworks.
Throughout the year, Debra Force Fine Art hosts numerous exhibitions, both within its premises and at various art fairs across the country. This allows art enthusiasts to engage with a diverse collection of masterpieces. The gallery is a proud member of the Art Dealers Association of America (ADAA).
Discover a World of Art with Debra Force Fine Art: Confidentiality and Expertise for Collectors and Institutions
Debra Force Fine Art provides a confidential and discreet gallery environment, catering to private collectors and institutions seeking to buy or sell artworks through consignment or direct acquisition. The gallery offers a wide range of services, including a comprehensive art advisory service that caters to collectors, museums, non-profit organizations, corporations, trusts, law firms, and banks.
At Debra Force Fine Art, clients can expect professional assistance and expertise to navigate the art world, whether it involves buying or selling artworks, appraising their value, etc. The gallery prides itself on providing exceptional service and a personalized approach to meet the requirements of each client.
Location

New York, NY, 13 East 69th Street, Suite 4F, 10021