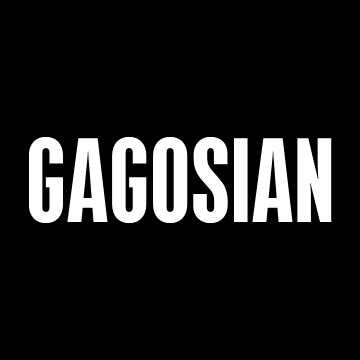 Gagosian
This profile has been verified and approved by representative of the gallery
Gagosian is an international gallery established by Larry Gagosian in 1980 in Los Angeles. The gallery is focused on modern and contemporary art.
Gagosian Gallery: Where Art Meets Innovation
The gallery operates with a team of over three hundred individuals across nineteen exhibition venues spanning the United States, Europe, and Asia. Beyond its physical spaces, Gagosian is pioneering the digital art market through inventive online viewing rooms. These rooms are synchronized with prominent art fairs and showcase highly desirable works by today's leading artists, offering transparent pricing, historical research, and informed market analysis.
Gagosian has a rich history of cultivating cultural programming and engaging with artists, encompassing various activities such as performances, guided exhibition tours, public discussions, film screenings, and studio visits.
Gagosian: Celebrating Art History and Cultivating Contemporary Creativity
Since its establishment, Gagosian has consistently curated and presented museum-quality exhibitions featuring artworks by iconic historical artists. Notable figures such as Arakawa, Diane Arbus, Richard Artschwager, Francis Bacon, Louise Bourgeois, Alexander Calder, Willem de Kooning, Claude Monet, Henry Moore, Jackson Pollock, Cy Twombly, Andy Warhol, Tom Wesselmann, and Zao Wou-Ki, among others, have been showcased. The gallery's groundbreaking Picasso exhibitions, curated by esteemed scholar John Richardson in both New York and London, garnered attendance from hundreds of thousands of visitors. In 2019, Larry Gagosian personally curated an exhibition featuring Picasso masterpieces as a tribute to Richardson following his passing.
Gagosian collaborates with a diverse range of renowned contemporary artists, including Georg Baselitz, John Currin, Rachel Feinstein, Urs Fischer, Ellen Gallagher, Theaster Gates, Katharina Grosse, Mark Grotjahn, Jennifer Guidi, Andreas Gursky, Hao Liang, Michael Heizer, Damien Hirst, Jia Aili, Titus Kaphar, Anselm Kiefer, Rick Lowe, Vera Lutter, Sally Mann, Brice Marden, Takashi Murakami, Albert Oehlen, Giuseppe Penone, Richard Prince, and many more. Additionally, Gagosian collaborates with design masters Frank Gehry and Marc Newson.
Location

New York, 980 Madison Avenue

New York, 976 Madison Avenue

New York, 821 Park Avenue

New York, 555 West 24th Street

New York, 541 West 24th Street

New York, 522 West 21st Street

Beverly Hills, 456 North Camden Drive

Los Angeles, 4357 Wilshire Boulevard

London, 20 Grosvenor Hill

London, 6–24 Britannia Street

London, 17–19 Davies Street

Paris, 4 rue de Ponthieu 75008

Paris, 9 rue de Castiglione

Le Bourget, 26 avenue de l'Europe

Geneva, 19 place de Longemalle

Basel, Rheinsprung 1, 4051

Gstaad, Promenade 79, 3780

Rome, Via Francesco Crispi 16, 00187

Athens, 22 Anapiron Polemou Street, 11521

Hong Kong, 7/F Pedder Building 12 Pedder Street Central

New York, 976 Madison Avenue, ny 10075

London, 28–29 Burlington Arcade, w1j 0qj
Participated in:

Basel Hall 2.0