Galerie Bene Taschen
Since 2011, Galerie Bene Taschen has quickly become a prominent gallery representing some of the world's leading artists in contemporary photography. The gallery is dedicated to promoting its international roster of artists through participation in major art fairs such as Paris Photo and Art Cologne. The gallery also organizes exhibitions to showcase the works of its talented artists, including Larry Fink, David LaChapelle, and Jamel Shabazz.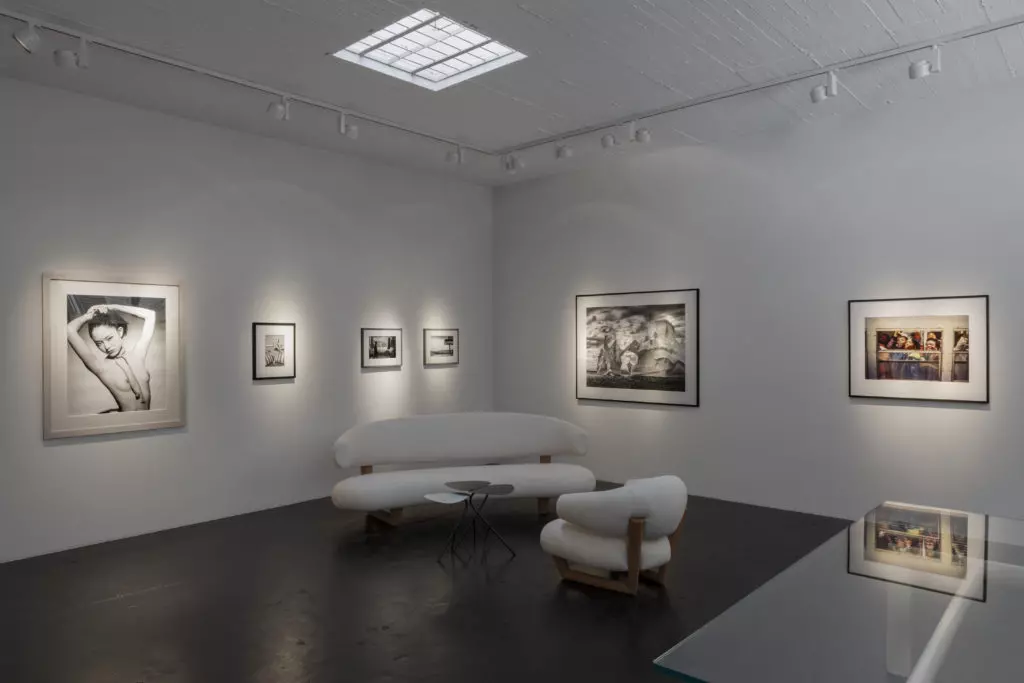 Gallery installation view, Lindenstraße 2021 © Galerie Bene Taschen, Cologne
Early Years and Expansion of Galerie Bene Taschen
Galerie Bene Taschen had an unexpected beginning in 2011 when its founder, Bene Taschen, organized the debut exhibition, showcased LA photographer Gregory Bojorquez's series "Eastsiders," capturing the essence of his hometown from an insider's perspective. This marked the beginning of Bene Taschen's journey into the world of photography, igniting his passion and inspiring the gallery's future endeavors.
The successful debut of Galerie Bene Taschen in 2011 opened doors for collaborations with renowned photographers. In 2013, the gallery began a fruitful partnership with New York-based photographer Joseph Rodriguez, strengthening its position in the global art scene. In 2014, the acclaimed Berlin-based photographer Miron Zownir joined the gallery's program, broadening its artistic scope.
As a pop-up gallery, Galerie Bene Taschen's exhibition spaces have traversed cities, moving from Berlin to Cologne. However, since 2017, the gallery has found a permanent home in Cologne, providing a dedicated space to showcase the works of its represented artists. In autumn 2017, the gallery was pleased to add New York-based photographer Jeff Mermelstein and German hyperrealistic painter Charlotte Trossbach to its roster. This was followed by a collaboration with renowned photographer Larry Fink, starting in autumn/winter 2019.
Opening the Second Space of Galerie Bene Taschen in Cologne
In 2021, Galerie Bene Taschen celebrated its 10th anniversary and expanded its influence by opening a second space in Cologne. This new venue provides additional room for artist events, exhibitions, and discussions, reinforcing the gallery's commitment to fostering artistic dialogue and engagement.
Beyond its exhibitions and events, Galerie Bene Taschen also publishes catalogues featuring a range of iconic works by its represented photographers. These catalogues serve as valuable resources for art enthusiasts to delve into the artists' artwork, offering a contemplative space to form personal interpretations and connections with the art.
Galerie Bene Taschen's artists
Galerie Bene Taschen's history is intricately woven with a diverse roster of artists, including luminaries like William Claxton, Larry Fink, David LaChapelle, Jeff Mermelstein, and Sebastião Salgado. Alongside them, the gallery proudly represents photographers renowned for documenting street culture, such as Jamel Shabazz, Arlene Gottfried, Miron Zownir, and Joseph Rodriguez. Through its curation and promotion of these visionary artists, Galerie Bene Taschen continues to play a significant role in shaping the contemporary art landscape.
The information on this page was automatically generated from open sources on the Internet. If you are the owner, its representative, or the person to whom this information relates and you wish to edit it – you may claim your ownership by
contacting us
and learn
how it works for Galleries
.
Location

Cologne, Moltkestraße 81

Cologne, Lindenstraße 19
Participated in:

Basel Hall 2.0